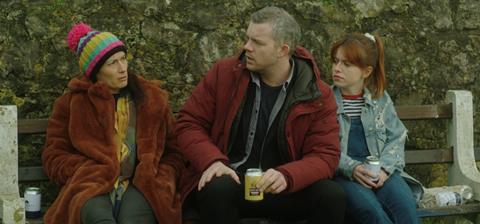 Filming has completed on location in Wales on the latest comedy feature from UK director Jamie Adams.
The cast of the untitled film is led by Fleabag star Sian Clifford, Russell Tovey, whose more recent credits include The Good Liar and Years And Years, and Rosie Day, who has starred in episodes of Outlander and feature Down A Dark Hall. Day was named a Screen Star of Tomorrow in 2013.
Screen can also reveal an exclusive first-look at the film, which shot in January on location at Margam Castle in Wales, and is now in post-production.
The project is produced by Studio POW, the London-based production company behind Funny Cow, Cordelia and upcoming Brian Epstein biopic Midas Man. Producer is Kevin Proctor and executive producer is Perry Trevers.
The comedy follows down-on-their-luck best friends Sally, Denise and Mick, who hatch a plan to receive a sizeable family inheritance by staging a sham wedding. The cast is rounded out by Ophelia Lovibond, Hugh Skinner, Richard Herring, Nick Helm, Phoebe Torrance, Richard Elis and Laura Patch.
It was made in the improvisational style that Adams has become known for in features such as Black Mountain Poets, which starred Alice Lowe. His other features include Songbird, starring Colbie Smulders, Balance, Not Symmetry, starring Laura Harrier, and more recently Venice At Dawn, which shot shortly before lockdown in early 2020.
Production of Adams' latest feature took place with Covid-19 safety protocols in place for the cast and 32 crew, who remained in a 'safety bubble' at accommodation in the area during shooting. Delivery is set for Spring 2021.
Adams described the story as celebrating "love, friendship and family". On shooting during the virus crisis, the filmmaker said: "To make a movie during a pandemic is certainly a privilege and has been made possible by the diligence and hard work of our cast and crew."