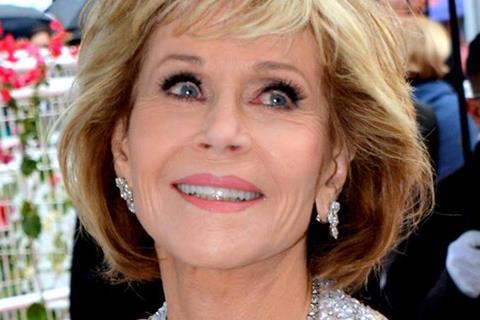 France's Institut Lumière will honour US actress Jane Fonda with its Lumière Award at the 10th edition of its annual cinema heritage festival, taking place October 13-21 this year.
She will be the second woman to receive the honorary award after French actress Catherine Deneuve. Other recipients include Clint Eastwood, Milos Forman, Gérard Depardieu and Ken Loach.
As well as showcasing a selection of key films from Fonda's career, the festival will also screen Susan Lacy's bio-documentary Jane Fonda In Five Acts, which premiered at Sundance and also played in Cannes Classics this year. It will also pay tribute to the work of Fonda's father Henry Fonda.
The actress will receive her award in a ceremony on October 19.
Thierry Frémaux, who is director of the Lyon-based Institut Lumière alongside heading up the Cannes Film Festival, announced the honorary award at a press conference unveiling part of the programme of the institution's upcoming festival.
Other events being lined up for the 10th edition include a retrospective devoted to late UK screenwriter and filmmaker Muriel Box and her work capturing England in the 1950s, as part of the institute's ongoing research into the role of women in cinema entitled "A permanent history of women filmmakers".
There will also be retrospectives devoted to late French filmmaker Henri Decoin and US director Richard Thorpe. The festival will also pay tribute to silent era maestro Max Linder, French director Robert Enrico and composer Bernard Lavilliers.
The full programme will be announced in September.