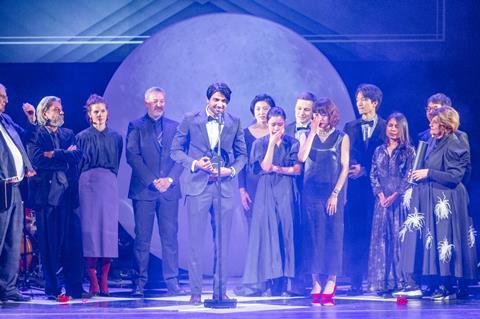 Japanese drama Kontora has won the grand prix at the 23rd Black Nights Film Festival, held in the Estonian capital of Tallinn.
Scroll down for full list of winners
The black-and-white feature, produced by Kowatanda Films, received its world premiere at the festival and marks the second live-action feature of India-born animator Anshul Chauhan. The story centres on a teenager who searches for a mysterious trove, guided by her grandfather's WWII-era diary.
Chauhan, who was in Tallinn to accept the honour at an awards ceremony tonight, will receive a grant of €10,000. It also won the award for best music, with composer Yuma Koda collecting the prize.
The international jury, which included Four Weddings And A Funeral director Mike Newell, said Kontora was "brilliantly multi-layered" and "a truly cinematic experience".
Filipino filmmaker Jun Robles Lana won best director and €5,000 for his black-and-white feature Kalel, 15. The film looks at youth culture through the eyes of the son of priest who is diagnosed with HIV. International sales are handled by Ignatius Films.
Romania's Aline Serban won best actress for her performance as a single mother and boxer in Hüseyin Tabak's Gipsy Queen, a Germany-Austria co-production for which ARRI Media handles world sales. It also won the Estonian Ecumenical Jury Prize.
Similarly, the UK's Cavan Clerkin won best actor for his transformative performance in Gerard Johnson's Muscle – another feature shot in black-and-white. Clerkin plays a man who attempts to get his life back on track by getting physically into shape. Produced by Matthew James Wilkinson's Stigma Films, international sales are with West End Films.
The award for best script went to Evgeny Ruman and Ziv Berkovich for Golden Voices, a romantic comedy-drama that follows a couple who dubbed Soviet films for decades but move to Israel after the collapse of the USSR. It also picked up the NETPAC award. The Israeli film, which was also directed by Ruman, is sold by Intramovies.
Richard Wong was named best cinematographer for his work on Wayne Wang's Coming Home Again. Asian Shadows handles world sales on the film about a Korean-American who cares for his dying mother while she teaches him traditional family recipes.
In addition, the First Feature Competition was won by Gregor Bozic's post-war drama Stories From The Chestnut Woods. The Slovenia-Italy co-production is sold by Cercamon.
Best Baltic film went to Tomas Vengris's nostalgic Lithuanian drama Motherland, for which Alpha Violet has international sales; and Feast, from Chinese director Yunxing Nie, won best film in the Rebel With a Cause strand.
UK feature Looted, which marks the first feature of Dutch director Rene van Pannevis, won the FIPRESCI award with the jury branding it "a powerful film, which stood out with its amazing energy, engaging performances and social context."
The audience award saw the votes go to Iran's When The Moon Was Full, Narges Abyar's film about a newly-married woman from Teheran who discovers that new brother-in-law is a religious extremist trying to recruit her husband for his bloody cause. Iranian Independents is handling world sales.
Russian master Andrei Konchalovsky and veteran Estonian sound director Enn Säde were both honoured with lifetime achievement awards.
The 23rd Black Nights Film Festival ran from November 15 to December 1.
Black Nights Film Festival Winners 2019
Official Selection Competition
Grand Prix for Best Film: Kontora
Best Director: Jun Robles Jana, Kalel,15
Best Actress: Alina Serban, Gipsy Queen
Best Actor: Cavan Clerkin, Muscle
Best Script: Evgeny Ruman and Ziv Berkovich, Golden Voices
Best Cinematographer: Richard Wong, Coming Home Again
Best Music: Yuma Koda, Kontora
First Feature Competition
Best Film: Stories From The Chestnut Woods
Special Jury Prize (screenplay): Bernardo Barretto, Seeker
Special Jury Prize (cinematography): Bahman Tavoosi, The Names of the Flowers
Baltic Film Competition
Best Baltic Film: Motherland
Rebels with a Cause Competition
Rebel with a Cause Award: Feast
Rebels with their Shorts Award: The Silence of the Dying Fish
Additional Awards
Audience Award: When The Moon Was Full
FIPRESCI Award: Looted
NETPAC Award for Best Asian Film: Golden Voices
Estonian Ecumenical Jury Prize: Gipsy Queen
Lifetime Achievement Award: Andrei Konchalovsky
Lifetime Achievement Award: Enn Säde
Just Film Awards
Best Film: Boyz In The Wood
European Children's Film Association Award: Binti
PÖFF Shorts
European Film Academy 2020 Awards candidate nomination announcement
12 K. Marx Street