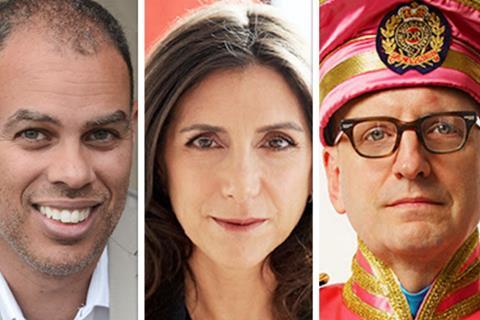 Producers Jesse Collins and Stacey Sher and filmmaker Steven Soderbergh will produce the 93rd annual Academy Awards on April 25, 2021.
"The upcoming Oscars is the perfect occasion for innovation and for re-envisioning the possibilities for the awards show," said Academy president David Rubin and CEO Dawn Hudson
"This is a dream team who will respond directly to these times. The Academy is excited to work with them to deliver an event that reflects the worldwide love of movies and how they connect us and entertain us when we need them the most."
"We're thrilled and terrified in equal measure," said Collins, Sher and Soderbergh. "Because of the extraordinary situation we're all in, there's an opportunity to focus on the movies and the people who make them in a new way, and we hope to create a show that really FEELS like the movies we all love."
Collins has produced numerous awards shows and events including the Grammy Awards, BET Awards, UNCF An Evening of Stars, Black Girls Rock! and Soul Train Awards, and TV series and specials such as John Lewis: Celebrating A Hero, and Bookmarks: Celebrating Black Voices.
Sher earned best picture Oscar nominations for Django Unchained and Erin Brockovich and her credits include Soderbergh's Contagion and Out Of Sight, as well as the Aretha Franklin biopic Respect starring Jennifer Hudson that is set to open in August 2021.
Soderbergh is in the awards season mix for his HBO Max drama Let Them All Talk starring Meryl Streep and Candice Bergen, Dianne Wiest and Lucas Hedges. He won an Oscar for Traffic and was nominated in the same year for Erin Brockovich.
Credits include sex, lies, and videotape, Magic Mike, and the Oceans trilogy.