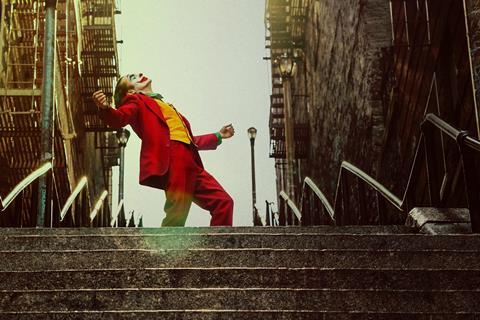 Warner Bros' Joker has become the highest-grossing 15-rated film of all time in the UK, with its total gross of £52.4m passing the £52.2m of The Full Monty in 1997.

Having been top of the UK box office for five weeks – a 2019 record – the film directed by Todd Phillips has added £800,000 since last weekend to take the top spot.
Highest-grossing 15-rated films of all time in UK

| Film | £ (millions) |
| --- | --- |
| Joker (2019) | 52.4 |
| The Full Monty (1997) | 52.2 |
| Bridget Jones' Baby (2016) | 48.3 |
| The Inbetweeners Movie (2011) | 45 |
| Bridget Jones' Diary (2001) | 42 |
It is the fourth highest-grossing release of the year in the UK to date, behind three Disney releases: Avengers: Endgame on £89.6m, The Lion King on £76.5m, and Toy Story 4 on £64.5m.
Its worldwide gross stood at $934m (£728m) as of last weekend.
The Full Monty held the record for 22 years since being released in 1997. The reported figures are unadjusted for inflation; under adjustment, The Full Monty would be far ahead as the Bank of England's inflation calculator reports £52.2m in 1997 is equivalent to £93.4m in 2018.
Joker had its world premiere in Competition at Venice in August, where it won the Golden Lion for best film.
It has also attracted significant awards buzz for Joaquin Phoenix, for his role as wannabe comedian Arthur Fleck who gradually turns towards a crazed life of crime.