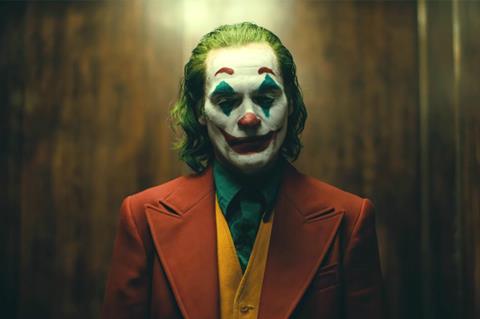 | | | | | |
| --- | --- | --- | --- | --- |
| Rank | Film (Distributor) | Three-day gross (Nov 1-3) | Total gross to date | Week |
| 1 | Joker (Warner Bros) | £2.4m | £51.6m | 5 |
| 2 | The Addams Family (Universal) | £2.2m | £7m | 2 |
| 3 | Maleficent: Mistress Of Evil (Disney) | £1.9m | £11.6m | 3 |
| 4 | Terminator: Dark Fate (Disney) | £1.2m | £5.4m | 2 |
| 5 | Doctor Sleep (Warner Bros) | £1.1m | £1.5m | 1 |
Today's GBP to USD conversion rate: 1.29
Warner Bros
Todd Phillips' supervillain origin story Joker topped the UK box office for a fifth consecutive weekend, setting a 2019 record for the longest run in the number one spot.
It passes the four-week runs in top spot of 2019 titles Aladdin and The Lion King. The last title to have a five-week run at number one was Universal's Jurassic World: Fallen Kingdom, in summer 2018.
The film took £2.4m, a slim drop of 29.4% on its previous session, and now stands at £51.6m. It has never dropped more than 44% on any weekend and has an average drop of 31.9% - far better than the yardstick of 50% week-on-week drops.
It has now broken into the top 40 highest-grossing films of all time in the UK, in 35th place ahead of 2008's Quantum Of Solace on £51.2m and behind 2012's Marvel Avengers Assemble on £51.9m.
If it continues to hold at such an impressive rate, it should make the all-time top 25 – Christopher Nolan's 2012 The Dark Knight Rises is currently 25th with £56.3m.
It has now toppled a succession of new openers, including this weekend's fellow Warner Bros title Doctor Sleep.
That opened to £1.1m for fifth spot and has £1.5m total having opened on Thursday, October 31.
Hitting seven figures is an acceptable result for a 15-rated horror, although Warner Bros will probably have hoped for more on the post-Halloween weekend.
After an event cinema release on Monday, October 28, Bruce Springsteen documentary Western Stars is now up to £369,000 total.
Universal
Family horror-comedy The Addams Family scored a 5.4% uptick with £2.2m this weekend, boosted by the Halloween festivities and the second half-term weekend in some UK schools. It now stands at £7m – beyond the £6.5m of 1993's Addams Family Values, and with a decent chance of overhauling the £10.4m of the first film about the ghoulish gathering, 1991's The Addams Family.
Creature feature Abominable added £769,837 for £7m on its fourth weekend; Downton Abbey added £129,389 for £27.7m on its eighth; and The Last Black Man In San Francisco added £23,218 for £150,731 on its second.
Disney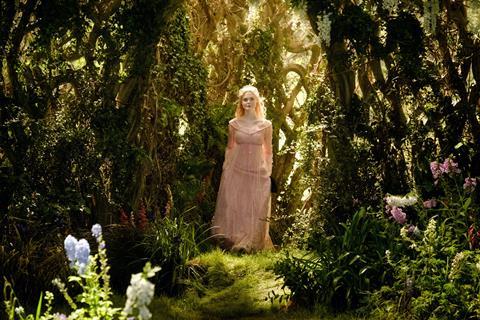 Fantasy sequel Maleficent: Mistress Of Evil fell a slim 12.7% on its third session with £1.9m taking it to £11.6m overall. It will be a challenge for it to catch the £19.5m of the 2014 first feature, especially with Disney stablemate Frozen 2 on the horizon.
Terminator: Dark Fate dropped 42.7% with £1.2m taking it to £5.4m. This is well below the UK gross of all the previous Terminator titles bar the first – they have all comfortable made it to eight-figure territory.
Indian comedy Housefull 4 added £108,558 and is at £495,830.
Studiocanal
Aardman Animations feature A Shaun The Sheep Movie: Farmageddon dropped just 4% on its third weekend, adding £1m to take it to £5.5m overall. However, it will fall short of the £13.8m made by the first title in 2015.
Sony
Action sequel Zombieland: Double Tap has now passed the £3.5m gross of the 2009 first title, with a 34% drop to £443,000 taking it to £3.6m.
The Angry Birds Movie 2 added £24,000 and is perched on £5.7m.
eOne
Ken Loach's northeast-set drama Sorry We Missed You opened to a strong £361,000 from 178 venues – a location average of £2,028. It is slightly behind the £404,022 of 2016's I, Daniel Blake and the £390,720 of 2006's The Wind That Shakes The Barley, but still an impressive result.
Official Secrets starring Keira Knightley fell a slim 19.7% on its third weekend, adding £246,000 to reach £1.8m.
CinEvents
An event cinema release of YouTuber DanTDM's interactive show DanTDM Presents The Contest grossed £153,796 on Saturday, November 2 and £124,718 the following day for a total of £278,514.
Its screen averages were £859 and £810 respectively on the two days; not record-setting figures, but respectable enough to reinforce the exhibition potential of the YouTube market.
STX
Phone app horror Countdown dropped 42% on its second weekend, taking £228,000 to bring it to £1m.
Hustlers is still in cinemas, adding £43,000 to reach £7.5m.
Paramount
Ang Lee's Gemini Man added £191,000 for £4.5m after four weekends; while Dora And The Lost City Of Gold topped up £26,000 for £6.6m.
20th Century Fox
Judy starring Renee Zellweger added £167,065 on its fifth weekend and now has £7.5m.
Vertigo Films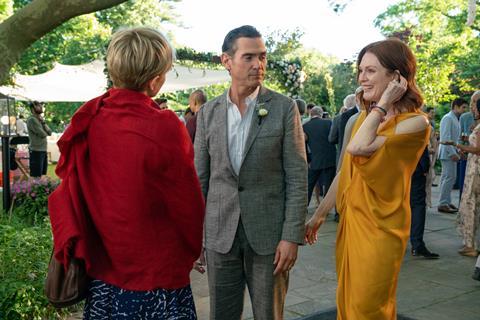 Bart Freundlich's English-language remake After The Wedding opened to £62,196, a low £523 screen average, and has £67,447 including previews.
National Theatre Live
Phoebe Waller-Bridge's stage show Fleabag is closing out its run in cinemas, with a £5,931 ninth weekend bringing it to £4m – a hugely impressive total for encore screenings of a one-person stage show.
Verve Pictures
Be Pure. Be Vigilant. Behave, a concert documentary about Welsh rockers Manic Street Preachers took £2,737 from three venues.
MUBI
Documentary Yves Saint Laurent: The Last Collections received a limited release, grossing £1,249 from one location, and has £10,321 including previews.
CinemaLive
The event cinema release of Dracula – Northern Ballet 2019 took £148,095 on Thursday, October 31 and has £148,412 in total.