K5 Independent is to handle international sales for Visar Morina's feature debut Father (Babai) which is currently shooting in North Rhine-Westphalia.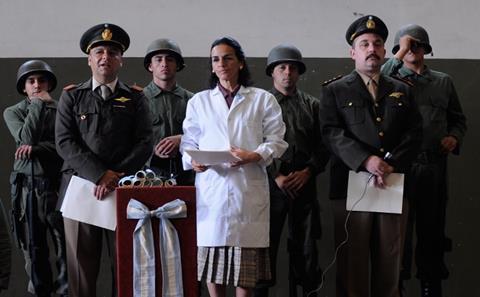 Shooting began at the beginning of this month in Macedonia's Ohrid for the German-Kosovar-Macedonian co-production between Nicole Gerhards' NiKo Film, Produksioni Krusha and Skopjie Film Studio.
A refugee hostel somewhere in Germany was recreated on the grounds of the the former British and NATO headquarters in Mönchengladbach-Rheindahlen, and there is also shooting at locations in Kosovo.
Financial backing for the production has come from broadcasters WDR and ARTE, Film- und Medienstiftung NRW, Kosovo Cinematography Center, German Federal Film Board (FFA), nordmedia, and the Macedonian Film Fund. Theatrical distribution in Germany will be handled by Berlin-based missingFilms.
Pristina-born Morina, who studied at the Academy of Media Arts (KHM) in Cologne, also wrote the screenplay about 10-year-old Nori who is obliged to grow up at a very young age after the early death of his mother and then being abandoned by his father Gezim in the Kosovo of the 1990s.
After a dangerous and eventful journey, Nori finally arrives in Germany and is reunited with his father, but he cannot understand how Gezim could just have left him. And chances of them being able to stay in Germany look bleak when Gezim's application for asylum is rejected.
Morina's debut sees him working again with the DoP Matteo Cocco who had been behind the camera on his 30-minute short Of Dogs And Wallpaper.
This production by augenschein Filmproduktion in co-production with ZDF/Arte and Film- und Medienstiftung NRW had competed in Locarno's Pardi di Domani shorts competition last year.
NikoFilm has already had experience of working in Kosovo with Isa Qosjan's Three Windows And A Hanging which was pitched at connecting cottbus in 2012 and will have its world premiere in Sarajevo next month.
In addition, Nicole Gerhards is a co-producer on Hungarian film-maker Ibolya Fekete's third feature Mom And Other Loonies In The Family which had been pitched in Cottbus in 2009.
K5 Independent is part of the Munich/London-based K5 Media Group with a focus on handling the sales for small and medium-budget films.
m-appeal dips into Dutch horror film
Berlin-based sales company m-appeal has picked up international sales rights for the Dutch horror film The Pool (De Poel) by UK-born writer-director Chris W. Mitchell.
Starring Gijs Scholten Van Aschat, Carine Crutzen, Bart Klever, Katja Herbers, Alex Hendrickx and film acting newcomers Jamie Grant and Chris Peters, Mitchell's feature debut centres on two families pitching their tents on the banks of a seemingly idyllic forest pool. All is well until they gradually fall under the spell of a supernatural power which has something to do with the pool.
The psychological horror drama was produced by Jan Doense and Herman Slagter's House of Netherhorror which was originally created to produce a slate of four low-budget horror films.
The Pool is the first of these projects to go into production and brought Fu Works' San Fu Maltha onboard as a partner.
It was also the first project to receive a production grant from the Netherlands Film Fund's New Screen programme for supporting new talent, and additional funding was raised from the crowdfunding initiative, Nieuw Nederlands Film Platform.
The world premiere of The Pool was held at the Amsterdam Imagine Film Festival in April, with a theatrical release in the Netherlands by Just Bridge Entertainment following in May. The film is now travelling around the country on a summer tour until the beginning of September.