The rising Russian director talks to Screen about his drama centred on a woman who grows a tail.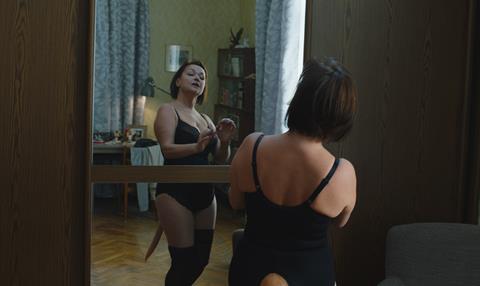 Ivan I. Tverdovskiy is back at Karlovy Vary International Film Festival, two years after winning the East of West Award with teen drama Corrections Class.
Zoology marks the second feature from the 27-year-old Russian filmmaker and shifts focus to the older generation, following a middle-aged woman (Natalya Pavlenkova) who is stuck in a rut until she grows a tail and turns her life around.
Tverdovskiy spoke to Screen about the film, which debuted at Kinotavr Sochi Open Russian Film Festival last month and received its international premiere in competition at KVIFF on Sunday (July 3).
The Russia-France-Germany co-production is made by New People Film Company in co-production with Arizona Productions and MovieBrats Pictures. New Europe Film Sales handles world sales.
Screen: In Corrections Class you focussed on teenagers. For your second feature, you focus on mature people. Why this shift?
Ivan I. Tverdovskiy: I don't think of my characters in Zoology as older characters because their psychology is really childish. They behave as teenagers. In this sense, their bodies are only a costume. Natasha still lives with her mother at the age when we meet her. The mother escorted her to kindergarten, school and sends her to work in the same manner so nothing has changed for her.
Your characters are outsiders. Why focus on them?
We live in quite complex times. About five years ago in Russia, when you bought a t-shirt with Ninja Turtles on, it was cool. But times have changed and it's better to wear a black or grey t-shirt so that you don't stand out. That's how it feels in Russia. I feel even people on the street interact in a different manner to five years ago. There's a feeling of an inner unification of people. I feel that's fake and something going back to Soviet times and I wanted to rebel against that. I've never lived in the Soviet Union myself but what I see today reminds me of stories from my parents. It's quite sad.
So when I tell the story of a person who grows a tail, I want to tell the story of an individual human being rather than a mass of people. So she's not really an outsider but she is an individual.
This story is a fable so I did not want to focus on a group of people fighting a regime but wanted to tell a more mythological story.
What is the message of Zoology?
It can be formulated in a simple way: you have to be yourself. The story behind it is that modern society is against people expressing their feelings. Once they stop being silent, grow a tail and express their feelings, society reacts in a cruel manner and orders people to shut up and not express anything. So the message is that you should be individual and express your feelings.
The term Zoology refers to people who are not distinguishable from animals. On the contrary. They are very similar to animals and behave in an animal manner, who don't try to express their feelings, overcome themselves or grow a tail. Actually, the protagonist who grows a tail is not an animal.
When did you come up with the idea of a woman growing a tail?
When I was 13, I coloured my hair red and went to school. It was a traditional school where we had to wear uniforms. One day a week, we did not have to wear the uniform and that is the day I coloured my hair. I was taken to the principal's office wear my hair was cut. So as punishment, I had to go in uniform on non-uniform day. This is when the idea first came.
How did you make the tail?
We had a lot of discussions about using VFX but it wouldn't have been natural enough so we created a special prop, operated by remote control. So the actress had to physically wear it. If we had just drawn it in later, she would not have had the feeling that she had grown a tail. Realism was very important.
Can you talk about lead actress Natalya Pavlenkova?
She played in my short film, when I was still in film school. Then she was in Corrections Class playing the mother of the protagonist. In this case, when I envisaged the script, I thought of her which is why the character has the same name. I wrote it thinking of her.
The setting is different to many Russian films. Why did you shoot by the sea?
We wanted to show a different side to Russia. But the sea has an edge and our lead character lives at this edge. If she lived in the Moscow suburbs, she could still degrade more, moving out of the city to the countryside. In this case, she lives by the sea and has nowhere else to move. She is on the edge which is why she has to grow a tail because she has nowhere else to go.
The zoo in the film is a few kilometres away. We initially wanted to film the zoo in Moscow but when we started exploring the options, we felt it was closer to our story that it's a small zoo in a small provincial town.
The ending is quite defeating. Was there ever a more positive ending?
My view of modern society is quite pessimistic. If something else happened at the end it would be a different kind of cinema and not something I would make.
How do you feel about the state of Russian cinema at the moment?
Knowing the history of Russian cinema, I don't think today's landscape is comparable to what we had before. It's not in the best shape. Russian people like to copy Western things they see. In order to evolve, there needs to be more original voices and fewer copies – both in commercial and auteur cinema. We have room to grow.
Do you have plans for your next film?
There are two projects. One is a documentary presented here called There Will Be Fog On The Roads. It is to do with police on the roads in Russia. I have been working on it for three years and there is around 400 hours of footage that needs to be edited.
I'm also working on a screenplay for a feature film, which will be very different from Corrections Class and Zoology.