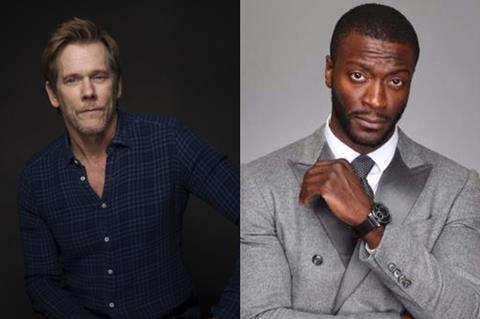 Showtime has announced that Kevin Bacon and Underground's Aldis Hodge will star in the network's one-hour drama pilot City On A Hill.
Ben Affleck, Matt Damon, and Jennifer Todd serve as executive producers for Pearl Street Films. Chuck MacLean wrote the pilot and serves as an executive producer alongside Michael Cuesta, who directed the pilot.
Produced by Showtime, City On A Hill is based on an original idea by Affleck and MacLean. Logan's James Mangold will also serve as executive producer. Bacon will serve as co-executive producer. Production will begin in Boston later this year.
In the early 90s, Boston was rife with violent criminals emboldened by local law enforcement agencies in which corruption and racism was the norm, and then it all suddenly changed. City On A Hill is a fictional account of what was called the "Boston Miracle."
The change agent is District Attorney Decourcy Ward (Hodge) who comes from Brooklyn and forms an unlikely alliance with a corrupt yet venerated FBI veteran, Jackie Rhodes (Bacon), who is deeply invested in maintaining the status quo. Together they take on a family of armoured car robbers from Charlestown in a case that grows to encompass and eventually upend Boston's city-wide criminal justice system.
Bacon won Golden Globe and SAG honours for his lead role in the television movie Taking Chance. Most recently, he starred in the television series I Love Dick and The Following. His film credits include A Few Good Men, JFK and The Big Picture.
Hodge won a SAG Award with the ensemble of Hidden Figures. His additional film credits include Jack Reacher: Never Go Back, The East, A Good Day To Die Hard. Hodge has also starred Underground, Leverage, Black Mirror, Turn: Washington's Spies. He is currently in production in the lead role on the feature film The Brian Banks Story directed by Tom Shadyac.
David Nevins, president and CEO of Showtime Networks, said: "Kevin Bacon radiates intelligence and mystery with every role he plays. He is a gifted, mesmerising actor who will be the perfect partner and foil to Aldis Hodge, one of Hollywood's rising talents and someone primed to stand at the center of this powerful drama."