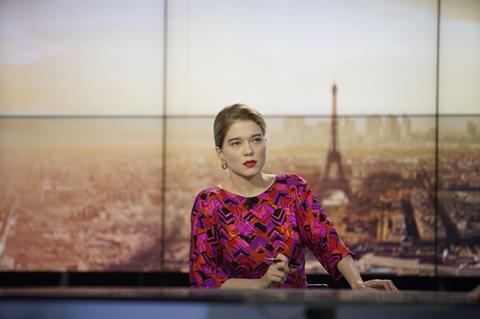 Kino Lorber has acquired US rights from Indie Sales to Bruno Dumont's media satire France starring Léa Seydoux following its world premiere in Competition in Cannes last month.
The French auteur's latest film focuses on celebrity journalist France de Meurs – balancing her high-profile television studio, a distant war and the demands of family – whose life is turned upside-down when she injures a young North African man with learning difficulties in a traffic accident.
The incident forces France to reassess her priorities and as she tries to retreat into a simpler, anonymous life she embarks on an unexpected love affair.
Screen's review hailed Dumont's "startling shift into new territory" and noted, "What will attract viewers above all that France is a star vehicle for Léa Seydoux, whose acting is these days hitting a new level of richness."
Kino Lorber will release France theatrically in the US and English-speaking Canada on December 10 with a run at Film at Lincoln Center in New York. The theatrical release will be followed by a VoD release on Kino Now and all major digital platforms and home video.
The distributor has worked with Dumont for close to a decade, having released his Camille Claudel 1915 (2013), Li'l Quinquin (2014), Slack Bay (2016), and Coincoin And The Extra-Humans (2019).
Senior vice-president Wendy Lidell negotiated the deal with Nicolas Eschbach of Indie Sales.
"We are delighted to work once again with Kino Lorber's longtime friend, Bruno Dumont," said Lidell. "The film's send-up of broadcast media and the cult of celebrity could not be more relevant. With France, Bruno demonstrates anew his fearlessness in pushing his own creative envelope and his willingness to turn genre conventions on their head. It is yet another affirmation of his daring stylistic approach and singular view of contemporary society."
Dumont added, "France in America! Back at Kino Lorber! Yeah!"