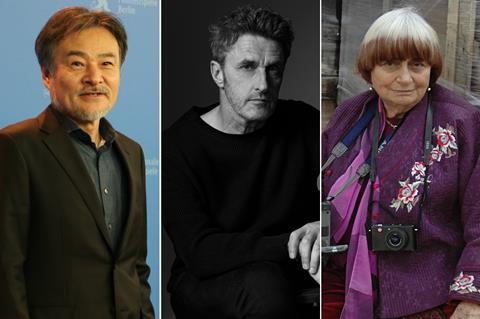 Japanese writer-director Kiyoshi Kurosawa, Polish-UK filmmaker Pawel Pawlikowski and legendary French filmmaker and artist Agnes Varda have been announced as the first three Qumra Masters for the Doha Film Institute's fifth annual talent development event in Qatar which runs from March 15-20.

The three filmmakers will participate in mentoring and masterclasses with around 30 yet-to-announced local and international first and second- time filmmakers. A selection of films by the three will also be screened. A further three are expected to be announced in the coming weeks.
Kurosawa is a Cannes regular who won the Un Certain Regard directing prize for Journey To The Shore in 2015. His previous credits include Cure in 1997, Pulse in 2007 and Tokyo Sonata in 2008. He is now working on To The Ends Of The Earth, an international co-production shooting in Uzbekistan.
Warsaw-born Pawlikowski studied at the UK's National Film and Television School (NFTS) and began his career making English-language films such as Last Resort, My Summer Of Love and The Woman In The Fifth. He moved back to Poland in 2013 and went on to win the Oscar for the best foreign-language film for the Polish-language Ida in 2015. His latest film, Cold War, debuted at Cannnes in 2018 and went on to become the sensation of the international festival circuit.
Varda, nicknamed 'the grandmother of the French New Wave' aged just 30, has a vibrant and diverse body of work encompassing fiction, documentary and visual art, often exploring issues of memory and identity. She made her first film, La Pointe Courte in 1954 while her most recent work, Faces, Places, was co-directed with artist JR and was nominated for an Oscar for best documentary film.
"The participation of these three living legends who have established remarkable identities in cinema will expand the possibilities of the medium for Qumra delegates," said Fatma Hassan Alremaihi, chief executive officer of the Doha Film Institute. "Agnes Varda, Kiyoshi Kurosawa and Pawel Pawlikowski have redefined storytelling, inspiring generations of filmmakers around the world to create fearlessly and to be true to their creative spirit."
"The assembly of masters of filmmaking Agnes Varda, Kiyoshi Kurosawa and Pawel Pawlikowski conjures the essence of 'Seven Samurai' in providing essential protection of the cinematic community from the 'looting' of global cultural bandits" added Elia Suleiman, the Doha Film Institute's artistic advisor.
In addition to sessions with the Qumra Masters, delegates also take part in series of workshops and talks with international industry experts in production, post-production, distribution and marketing.
Last year's Masters were Tilda Swinton, Bennett Miller, Sandy Powell, Andrey Zvyagintsev and Apichatpong Weerasethakul.