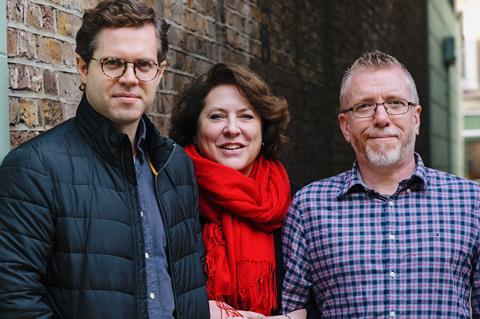 Sleeper Films, the London and Dublin-based production company founded by The Favourite producer Lee Magiday, has revealed plans to ramp up its output across TV and film, with a refreshed slate of projects in development.
Magiday founded the company in 2016, with Rory Gilmartin and and Wilf Varvill joining in 2019 as producers and partners. Gilmartin's previous credits as a producer include feature Herself and Channel 4/Amazon Prime series Frank Of Ireland.
Varvill has worked at a leading film and TV completion guarantor, where he was closely involved in the financial and legal closing of projects including Lars von Trier's The House That Jack Built. He previously worked in acquisitions at Focus Features and Universal Pictures International.
Sleeper Films' projects in development include supernatural series Corballymore House, co-produced with Ben Grass of Pure Grass Films. It has been created by Declan De Barra, who also created The Witcher: Blood Origin. De Barra will also serve as a showrunner on the series. The thriller is set just prior to the First World War, and follows the Doyle family as they inherit a remote manor house while recovering from the loss of their baby and a failed business, where even more misfortune awaits. The series is currently being readied to pitch to select buyers.
As previously announced, Sleeper Films is developing a feature called In The Shadows with Film4 about the UK-Somalian women's boxing phenomenon Ramla Ali, to be directed by Anthony Wonke and in partnership with Curate Films, and the mystery thriller series The Ruín, an adaptation of Dervla McTiernan's novel of the same name.
In development with Screen Ireland, Sleeper is producing with Colin Farrell and Claudine Farrell of Chapel Place Productions, Troy Lum and Andrew Mason at Brouhaha and Sophie Gardiner at Chapter One.
Sleeper Films' backing comes from MediaNet Partners and Sampsonic Media.