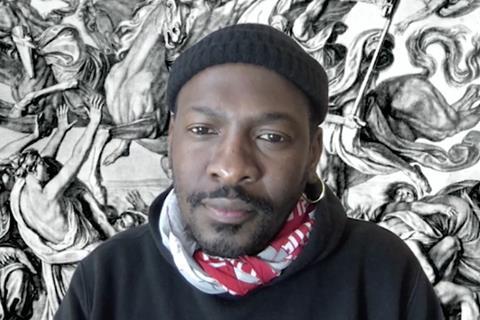 The next feature from Lesotho filmmaker Lemohang Jeremiah Mosese is among 10 upcoming projects to receive support from the Hubert Bals Fund (HBF), administered by the International Film Festival Rotterdam.
The writer and director of Sundance award-winner This Is Not a Burial, It's a Resurrection has received a grant of €10,000 for script and project development on his fourth feature, titled The Chattering Of Teeth.
Earlier this year, the filmmaker said he was developing a new feature around the theme of siege and fear after being grounded in his adopted home city of Berlin by the Covid-19 pandemic. It would mark the follow-up to his acclaimed This Is Not a Burial…, which was Lesotho's Oscar submission this year.
Five female and five male directors from countries including Brazil, Thailand and Kazakhstan received script and project development grants in the latest round of funding. Ten projects were chosen from 373 applications.
Russia's Natalya Meshchaninova has received support for My Little Nighttime Secret, having had her feature debut The Hope Factory world premiere at IFFR in 2014.
Filipino filmmaker Rafael Manuel also received a grant for his debut feature Patrimonio, after winning the Berlinale Silver Bear Jury Prize in 2020 with short film Filipiñana.
In addition, two projects by female directors are the first to receive the increased figure of €75,000 from the Netherlands Film Fund (NFF) as part of the NFF+HBF Co-production Scheme. They include Mouly Surya's The City Is A Battlefield and Sara Ishaq's The Station.
The HBF has also forged a new partnership with Projeto Paradiso, which is offering extra support to the two selected projects from Brazil. Director, playwright and actress Grace Passô is supported for her debut feature Deaf Love 1500, having previously starred in André Novais Oliveira's Temporada which screened at IFFR 2019. Maya Da-Rin, whose debut The Fever received an HBF development grant before it screened at IFFR 2020, is awarded support for her second feature titled Nightsong.
Script and Project Development recipients
The Chattering Of Teeth (Lesotho-S Afr)
Dir: Lemohang Jeremiah Mosese
Deaf Love 1500 (Bra)
Dir: Grace Passô
Flat Girls (Thai-Sing)
Dir: Jirassaya Wongsutin
Guras (India-Nep)
Dir: Saurav Rai
In The Shadow Of The Horns (Serb)
Dir: Ognjen Glavonić
My Little Nighttime Secret (Rus)
Dir: Natalya Meshchaninova
Nightsong (Bra)
Dir: Maya Da-Rin
Patrimonio (Phil-Sing)
Dir: Rafael Manuel
Te Veré Mañana (Arg)
Dir: Santiago Loza
A Winner Is Seen At The Start (Kaz)
Dir: Zhannat Alshanova
NFF+HBF Co-production Scheme
The City Is A Battlefield (Indo-Phil-Sing-Neth)
Dir: Mouly Surya
The Station (Yem-Jor-Fr-Neth)
Dir: Sara Ishaq