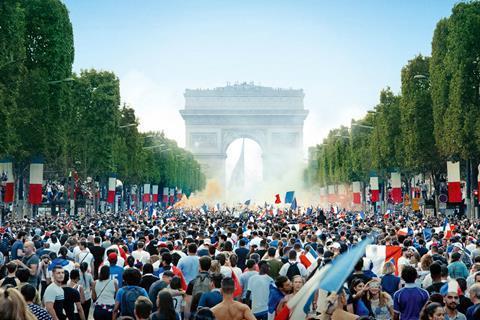 Ladj Ly's debut feature and Cannes Jury Prize winner Les Misérables, revolving around social tensions in a tough Paris suburb, is the frontrunner in the 25th edition of France's Lumière awards this year, with seven nominations.
The awards which are voted on by some 130 international correspondents hailing from 40 countries are France's equivalent of the Golden Globes.
Les Misérables has been nominated for best film, director, screenplay, cinematography, first film and twice in the best new actor section for two of its cast members, Alexis Manenti and Issa Perica.
The work, which is also France's submission to the best international film category of the 2020 Oscars, is currently doing good business at the French box office. It has drawn 560,000 spectators in its first two weeks on release for a rough gross of $4.1m.
Neck and neck behind Les Misérables, lie François Ozon's By The Grace Of God and Roman Polanski's An Officer And A Spy, with five nominations each, including in the best film, director and best screenplay categories.
The nominations for Polanski's latest will prove controversial following a fresh rape allegation made against the director last month.
Céline Sciamma's Portrait Of A Lady On Fire and Arnaud Desplechin follow with four nominations each, including best film.
For the first time a feature-length animation has also made it into the best film category with the nomination of Jeremy Clapin's quirky work I Lost My Body. The film has just been launched on Netflix after a successful festival run.
This year, the awards are launching a new prize for best international co-production aimed at celebrating a French producer's work on the international scene. Nominees in this section include Brazilian drama Bacurau and Algerian female emancipation tale Papicha.
The Lumières were created in 1995 by late producer Daniel Toscan du Plantier and the British journalist Edward Behr. The 25th edition of the Lumière awards will take place on January 27, 2020. Former Unifrance managing director Isabelle Giordano will present the ceremony.
The 2020 Lumiere nominations in full:
Best film
By The Grace Of God, François Ozon
An Officer And A Spy, Roman Polanski
Les Misérables, Ladj Ly
Portrait Of A Lady On Fire, Céline Sciamma
Oh Mercy!, Arnaud Desplechin
Best director
Jérémy Clapin, I Lost My Body
Arnaud Desplechin, Oh Mercy!
Ladj Ly, Les Misérables
Roman Polanski, An Officer And A Spy
Céline Sciamma, Portrait Of A Lady On Fire
Best actress
Fanny Ardant, La Belle Epoque
Anaïs Demoustier, Alice And The Mayor
Eva Green, Proxima
Noémie Merlant, Portrait Of A Lady On Fire
Karin Viard, Perfect Nanny
Best actor
Swann Arlaud, By The Grace Of God
Daniel Auteuil, La Belle époque
Jean Dujardin, An Officer And A Spy
Fabrice Luchini, Alice And The Mayor
Roschdy Zem, Oh Mercy!
Best screenplay
Nicolas Bedos - La Belle Epoque
Ladj Ly, Giordano Gederlini and Llexis manenti, Les Misérables
François Ozon, By The Grace Of God
Nicolas Pariser, La Belle Epoque
Roman Polanski and Robert Harris, An Officer And A Spy
Best cinematography
Manuel Dacosse, By The Grace Of God
Pawel Edelman, An Officer And A Spy
Irina Lubtchansky, Oh Mercy!
Claire Mathon, Portrait Of A Lady On Fire
Julien Poupard, Les Misérables de Ladj Ly
Best new actress
Céleste Brunnquell, The Dazzled
Mina Farid, An Easy Girl
Nina Meurisse, Camille
Lise Leplat Prudhomme, Jeanne
Mama Sané, Atlantics
Best new actor
Thomas Daloz, Particles
Alexis Manenti, Les Misérables
Tom Mercier, Synonymes
Issa Perica, Les Misérables
Thimotée Robart, Burning Ghost
Best first film
Atlantics, Mati Diop
Conviction, Antoine Raimbault
Les Misérables, Ladj Ly
The Mustang, Laure de Clermont-Tonnerre
The Bare Necessity, Erwan Le Duc
Best international co-production
Bacurau, Kleber Mendonça Filho and Juliano Dornelles
It Must Be heaven, Elia Suleiman
Young Ahmed, de Luc and Jean-Pierre Dardenne
Lola, Laurent Micheli
Papicha, Mounia Meddour
Best animation film
The Bears' Famous Invasion Of Sicily, Lorenzo Mattotti
Funan, Denis Do
Swallows Of Kabul, Zabou Breitman and Eléa Gobbé-Mévellec
I Lost My Body, Jérémy Clapin
The Tower, Mats Grorud
Best documentary
Living And Knowing You're Alive, Alain Cavalier
Lourdes, Thierry Demaizière and Alban Teurlai
M, Yolande Zauberman
Just Don't Think I'll Scream, Frank Beauvais
68, Mon Père Et Les Clous, Samuel Bigiaoui
Best soundtrack
Fatima Al Qadiri, Atlantics
Christophe, Jeanne
Alexandre Desplat, Adults In The Room
Evgueni Galperine and Aacha Galperine, By The Grace Of God
Dan Levy, I Lost My Body