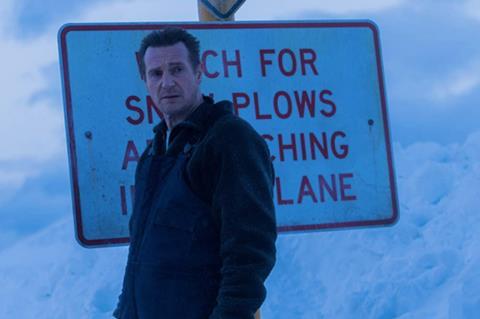 Liam Neeson and Aidan Quinn action thriller Blacklight has sold out across the world for The Solution at the virtual AFM after the recent deal with Briarcliff Entertainment for US rights.
Deals have closed in the UK (Signature), Australia and New Zealand (Rialto), France (Metropolitan), Benelux (DFW), Germany (Wild Bunch), Scandinavia/Iceland (Nordisk), Italy (Notorious) Latin America (California Filmes), Japan (Klockworx), South Korea (First Run), Spain (Key 2), Middle East (Eagle) and Canada (VVS).
In further sales Blacklight has gone in CIS (Top Films), Eastern Europe (Vertical), Taiwan (VS Cinemas), India, Turkey, Greece and Cyprus (Tanweer), Hong Kong, Malaysia and Vietnam (Media Film Int), Indonesia (PT Prima), Philippines (Rafaella), Portugal (Nos), Singapore (Shaw), South Africa (Empire), Thailand (Sahamongkol), Israel (Forum), Iceland (Sena), West Indies (ATM Films) and global airlines (Horizon).
Director Mark Williams, who directed Neeson (picturted in Lionsgate's Cold Pursuit) in Honest Thief, shot Blacklight in Australia in December 2020. Incentive funding was provided by the Australian federal government's Location Offset and Location Incentive programmes and Film Victoria's Attraction Fund.
Blacklight centres on a troubled off-the-books FBI fixer tasked with pulling undercover agents out of dangerous situations who finds himself in the middle of a deadly conspiracy. The cats includes Emmy Raver-Lampman, Taylor John Smith, Claire van der Boom and newcomer Gabriella Sengos.
Williams produced via Zero Gravity Management along with Paul Currie of Australian-based Footloose Productions, The Solution's Myles Nestel, Dr. Coco Ma from Sina Studios, who also financed the project, and Alevé Loh. The Solution's Lisa Wilson is an executive producer.
The film will get a wide theatrical release on February 11, 2022 via Briarcliff, The Solution Entertainment Group and Sina Studios.