EXCLUSIVE: Concourse Film Trade launches sales on Alex Williams-directed animation.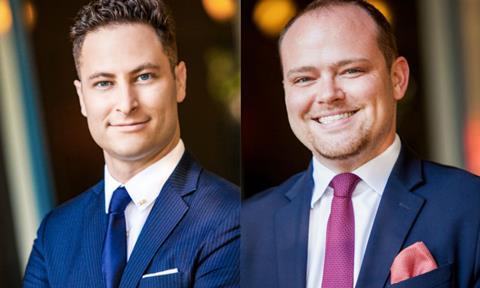 Concourse Film Trade, the global sales and financing arm of Matthew Shreder and James Andrew Felts' [pictured] Concourse Media, has acquired worldwide sales rights to the feature animation My Haunted House.
Animation veteran Alex Williams directs the feature about Charlie, a normal 14-year-old who lives in a haunted house with his supernatural family made up of Frankenstein, Count Dracula, mummies and zombies.
Williams brings a wealth of experience, having worked as an animator on The Lion King, Robots, The Chronicles Of Narnia: The Voyage Of The Dawn Treader, and Harry Potter And The Half-Blood Prince, among others.
The UK's Tigon Entertainment is producing My Haunted House in association with Vancouver-based studio Liquid Media Group (LMG), which has a first-look deal with Concourse finance partner Productivity Media. Bob Thompson is the producer in charge of animation.
"We have been seeking a strong animation title for several market cycles," Shreder said. "Animation can achieve some of the highest yields for the independent sector if completed at a high level. This team is one of the strongest in animation and the film brings to the screen some of the most iconic and legendary characters that audiences love."
LMG CEO Krysanne Katsoolis said: "This strategic alliance with the experienced sales team at Concourse Film Trade is an important milestone for Liquid. My Haunted House is the first of a slate of first-class IP which we will produce in Liquid's studios and launch with Concourse and PMI."
LMG has three animated features in development, including Household Pests from Sergio Pablos, which will be produced at LMG's animation facility Waterproof Studios.