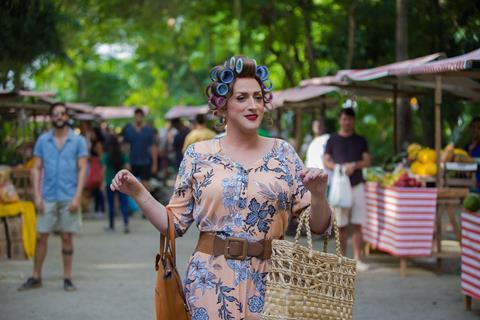 Susana Garcia's My Mom Is A Character 3 (Minha Mãe É uma Peça 3) became the first local film to top the annual charts in Brazil in 10 years as ticket sales in 2020 plunged 77% against the previous year due to the pandemic.
Not since Jose Padilha's Elite Squad 2 in 2010 has a local title managed to unseat Hollywood from the top of the rankings and it happened amid a year of cinema closures and disruption as the US majors postponed their big films to 2021 or beyond.
With the exception of Wonder Woman 1984, all other films that made it on to the top 10 for 2020 were either 2019 releases or titles that opened in the first two months of the year before the lockdown.
Released in late December 2019, Downtown Filmes' My Mom Is A Character 3 grossed $25.8m (BRL 140.4m) in 2020 alone and drew more than nine million admissions.
The comedy is based on the play of the same name, and created by Paulo Gustavo, who stars as a middle-aged divorced woman.
Brazil's overall box office reached $118.9m (BRL 644.5m) last year, according to Filme B, the online content company specialising in collecting and analysing data from the local film market.
Of that amount, 11.2% came during the lockdown period from March to December.
Attendance reached 40.2m admissions and also dropped 77% against 2019. The number of releases fell 52.4% in 2020: 221 compared to the 464 year-ago level.
Thanks to Minha Mãe É uma Peça 3, the market share of local films climbed nearly 100%, from 12% to 22.7%. By attendance, the performance of Brazilian films increased from 13.7% to 23.3%.
After closing their doors for seven months in 2020, sites have been operational in Brazil since last October, when big chains such as Cinemark and Cinépolis resumed their activities.
Due to the current situation, with the country facing a new rise in hospitalisations and deaths, there is a possibility that the cinemas may be forced to close again, depending on the health policy of each state.
So far the pandemic has claimed more than 203,000 lives in Brazil, ranking as the world's second-highest Covid-19 death toll behind the US.
BRAZIL TOP 10 BOX OFFICE 2020
Source: Filme B
Rank / Title / Distributor / Gross
1. My Mom Is A Character 3 / Downtown Filmes / $25.8m (BRL 140.4m)
2. Frozen 2 / Disney / $22.8m (BRL 124.1m)
3. Jumanji: The Next Level / Sony / $9.8m (BRL 53.6m)
4. Sonic The Hedgehog / Paramount / $8.2m (BRL 44.9m)
5. Birds Of Prey / Warner Bros / $5.6m (BRL 30.8m)
6. 1917 / Universal / $4.4m (BRL 23.9m)
7. Bad Boys For Life / Sony / $4m (BRL 21.9m)
8. Wonder Woman 1984 / Warner Bros / $3.6m (BRL 20m)
9. Parasite / Alpha/Pandora / $2.8m (BRL 15.2m)
10. Dolittle / Universal / $2.5m (BRL 13.7m)