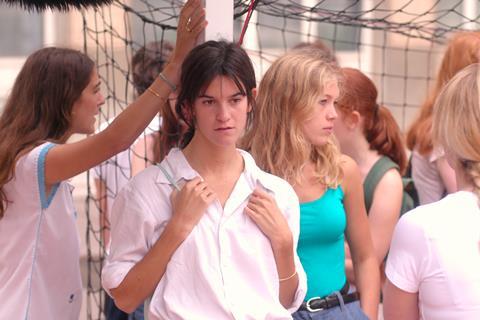 Paris-based Luxbox has boarded sales on French director and actress Suzanne Lindon's debut film Spring Blossom (Seize Printemps), which was announced as part of the Cannes Film Festival's special 2020 Official Selection on Wednesday.
Lindon, who is the daughter of Cannes Palme d'Or winning actor Vincent Lindon and actress Sandrine Kiberlain, directs and stars in the film.
She plays a precocious teenager, bored by people of her own age, who finds a fleeting soulmate in an older actor, who is also disenchanted with his milieu, played by BPM co-star Arnaud Valois. Other cast members include multi-hatted former talent agent Dominique Besnehard, best known internationally for the series Call My Agent, in the role of a theatre director.
The feature is produced by Caroline Bonmarchand at Avenue B Productions whose recent credits include Sophie Letourneur's comedy Enormous and Sébastian Marnier's School's Out.
At Wednesday's announcement Cannes delegate general Thierry Frémaux praised the work for its authentic snapshot of a certain type of Parisian life. "Just as Ladj Ly captured one aspect of life in Paris with Les Misérables last year, here we have another vision."
20-year-old Lindon told Screen she wrote the screenplay as a 15-year-old teenager, the summer before starting high school, on the basis of her own experiences growing up in Paris.
"There are lots of films about teenagers written by older people and I was bang in the middle of my adolescence when I wrote this," she said.
The character of the older actor, however, was not taken from real-life but rather a play her mother sent her to watch. "I became fascinated by the actor on stage and it got me thinking about what could have happened in real life."
In spite of her family connections to the world of cinema, Lindon recounted that she had ordered her parents to stay away the set out of desire to prove herself on her own
"My dad hasn't even seen the film yet while my mum saw a few of the extracts as I was still living with her when I shot the film."
Luxbox co-chiefs Fiorella Moretti and Hédi Zardi said they had been drawn to the production for the ingenuity and freshness of Lindon's story and direction in an anxious time.
"This film is the escape we need, the discovery of a promising and bright artist," they said.
Other Cannes 2020 label selections on the Luxbox slate include Lithuanian director Sharunas Bartas's historic drama In The Dusk.