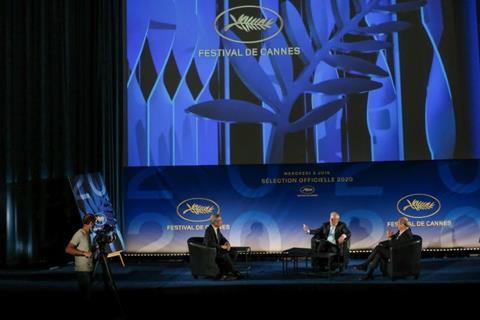 The long-awaited Cannes line-up announcement ("73, the festival you can't see") felt very much like the new normal. Confusing, exciting, not what you expected, but you know, it may turn out to be just great. Maybe next year we'll be doing this again because we want to!
There's nothing like a list of titles to start a film fan ticking off the dates on the calendar as to when they can be seen, but, again, in keeping with the new normal, there were no answers today. We now know what's in the label, but we still don't know what the label really means. It seems fairly certain that nobody does right now, not even those who proudly bear it.
There are titles to savour in the 56-film mix (or titles you'd really like to savour): some of the more anticipated features have practically sold out, so the label is the icing on the cake for directors including Thomas Vinterberg (Another Round) and Yeon Sang-ho (Peninsula). A double-whammy for the UK's Steve McQueen, with two features from his BBC TV series Small Axe, is a brilliant achievement for the director and his backers. The fact it will show in the UK on terrestrial TV raises some policy questions; it does, however, have a French distributor circling and the potential for further theatrical deals.
Two films from Disney – Pixar'sSoul and Wes Anderson's The French Dispatch – add a sprinkling of stardust to a line-up that, unusually for Cannes, looks very much like a festival of discovery (Maiwenn, Naomi Kawase, Francois Ozon et al aside). It is also a very French film festival: with 29 domestic features, the label may prove to be the salvation of the French business this year. As delegate general Thierry Fremaux remarked: "At least we have a great programme for the Cesars."
The empty-room announcement by Fremaux and festival president Pierre Lascure felt like a sign of the times. The line-up was not quite the Cote d'Azur viagra the global independent business was hoping for, but something with the prospect for a long tail, as the industry inches towards a slow reopening. Alighting briefly on the rumoured delay to next year's Academy Awards, Fremaux presented 56 features in a "democratic" manner. No Competition, Un Certain Regard or Midnight Screenings. Just veterans ("the faithful"), first-timers, debut filmmakers, docs, and comedies, all navigating a virtual world together, but with the help of a Cannes laurel.
Next up is the Marché, where questions will begin to be answered, such as how, when and where these gems can be unearthed (and they may not all be entirely ready to screen by then). It's no secret that Venice is averse to programming Cannes label features, but Toronto, San Sebastian and others are said to be amenable, even if they may be fielding significantly smaller festivals themselves. Fremaux's mention of a Sundance hook-up made the idea that this selection will spin out across a year look more likely.
There has been a lot of movement with this line-up, even while many projects have remained faithful to Cannes. Some eagerly-awaited features are missing, and directors worldwide have been skittish about the risk of taking part in this or any other festival this year. Cannes itself has talked about 2021 to a few candidates. Berlin has been out unusually early, programming for next year as well.
But where some have held back, the door has opened to many others who may not have made the final cut otherwise. Many more debuts, more films by women (albeit with a slimmer geographic reach), and all given equal standing.
Fremaux, Cannes and the French film industry together delivered the best they could in the circumstances and it will be a shot in the arm for the market. The vagueness and uncertainty shrouding Cannes 73 by the global lights-out in cinemas make the idea of taking the selection further more challenging, but it does bring the circuit alive again after months of silence. Films on this list will need the buzz of screenings, reviews, and the anticipation of deals and further festival exposure to move the dial on their marketability and commercial prospects. This is, presumably, something the Marché will attempt to provide.
For these titles and their directors, the label is the beginning. There's a road to the big screen, and they're on their way. There's a road back to business as well, and the Cannes label is the first step onto it. Nobody has answers or solutions to anything right now. But, as always in this industry, we watch and we learn.

Screen International's executive editor for reviews and new talent