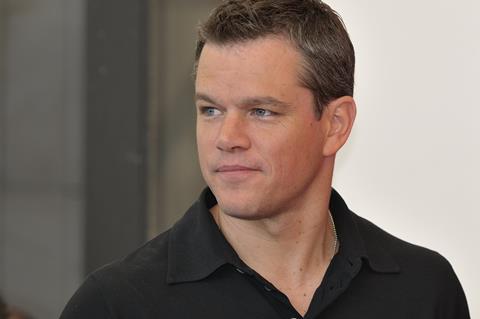 Matt Damon, in awards contention this season with Downsizing, will receive BAFTA Stanley Kubrick Britannia Award for Excellence in Film at the 2017 AMD British Academy Britannia Awards on October 27 in Beverly Hills.
Damon joins previously announced honourees Dick Van Dyke, Ava DuVernay, Claire Foy, and Kenneth Branagh.
"Matt Damon is undoubtedly one of the most talented and respected actors working in film today," BAFTA Los Angeles chairman Kieran Breen said. "Having made a remarkable impact at a young age with Good Will Hunting, he has developed a phenomenal career – combining both big-budget studio movies and acclaimed independent films.
"As a favorite of some of the top contemporary directors in our industry, it seems particularly fitting that we are honoring his career with an award bearing the name of the legendary Stanley Kubrick."
The Stanley Kubrick Britannia Award for Excellence in Film presented by Newegg honours "a unique individual, upon whose work is stamped the indelible mark of authorship and commitment, and who has lifted the craft to new heights."
Among prior recipients are Jodie Foster, Meryl Streep, George Clooney, Tom Cruise, Daniel Day Lewis, Robert De Niro, Clint Eastwood, Tom Hanks, George Lucas, Steven Spielberg and Denzel Washington.
Besides Alexander Payne's satire Downsizing, Damon also stars in George Clooney's mystery Suburbicon based on a screenplay by Joel and Ethan Coen.