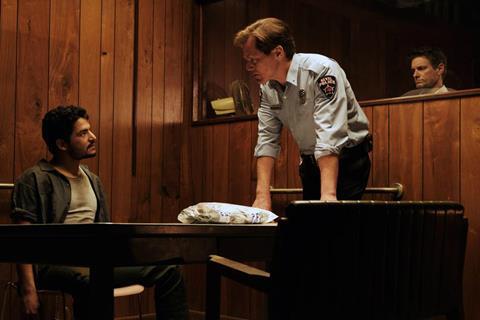 International Film Trust (IFT) has picked up international rights to SXSW 2020 selection The Quarry starring Michael Shannon and Shea Whigham and begins talks with EFM buyers this week.
Shannon plays a small town Texas police chief who becomes suspicious when a mysterious preacher (Whigham) arrives to take over the local church. As the congregation is drawn to the newcomer's unorthodox sermons, it is not long before the two men are locked in a game of cat and mouse.
The cast includes Catalina Sandino Moreno from Maria Full Of Grace and TV series The Affair. Shannon and Whigham appeared together in Jeff Nichols' 2011 mystery Take Shelter.
Scott Teems directs The Quarry and Prowess Pictures' Laura D. Smith (It Follows) and Kristin Mann (Midnight Special) are the producers. Rockhill Studios, Rogue Black/Metalwork Pictures, EFC Films, Backlot Pictures, William Corry, Vojin Gjaja, Lucas Jarach and Dave Kerr financed the project.
Teems and Andrew Brotzman adapted the screenplay from the novel by award-winning South African playwright and novellist Damon Galgut. CAA Media Finance represents US rights.
"We're thrilled to partner with Laura and Kristin again on another excellent title," said IFT director of acquisitions Kenner Bolt and president of sales Christian de Gallegos. "The Quarry marries what they are so good at: a pressure cooker concept with actors that make it sing. We're excited to share this one with buyers ahead of its SXSW debut."
"It's always a pleasure to work with the entire IFT team, who've proven time and again to have fantastic taste, appreciation for the bold stories that we like to tell, and the drive to help bring these films to audiences worldwide," added Smith and Mann.