EXCLUSIVE: Manchester-born director describes story's 'personal resonance'.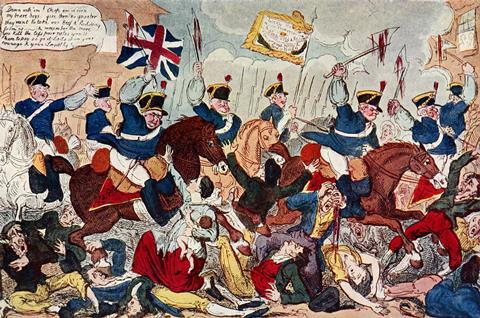 Mr. Turner director Mike Leigh will return to the 19th century for his next film, currently titled Peterloo, a drama about the infamous Peterloo Massacre of 1819.
The BAFTA-winning writer-director, who also has seven Oscar nominations to his name, intends to shoot the film in 2017 and will re-team with DoP Dick Pope, who was Oscar-nominated for his camerawork on last year's Cannes Competition title Mr. Turner.
"There has never been a feature film about the Peterloo Massacre," Leigh said. "Apart from the universal political significance of this historic event, the story has a particular personal resonance for me, as a native of Manchester and Salford."
The notorious massacre, now widely taught in UK schools, saw British government forces charge into a crowd of 60,000 that had gathered in St Peter's Field in Manchester to demand political reform.
The forces killed an estimated 15 protestors and injured hundreds, sparking outcry but also further government crackdowns.
The defining moment in radical British history also played a significant role in the founding of The Guardian newspaper.
Re-joining Leigh and his regular producer Georgina Lowe will be Mr. Turner executive producer Gail Egan (The Constant Gardener) and the same film's assistant producer Helen Grearson, who will serve as associate producer.
The film, currently in development with Film4, is being lined up as the director's biggest budget feature to date after latest effort Mr. Turner became the filmmaker's biggest-grossing title to date, taking more than $10m (£6.8m) in the UK alone.
The news comes the day after the announcement of the Cannes Film Festival line-up, so often a launch-pad for Leigh over the years.
While the director is currently rehearsing The Pirates of Penzance for the English National Opera, odds of a return to the Croisette in 2018 must be very short.