The Writers' Guild of Great Britain has unveiled the winners of its 2018 awards.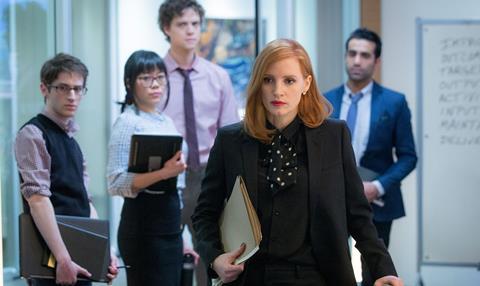 The awards aim to highlight UK writing for film, television, radio, theatre, comedy, books and videogames.
At tonight's (Jan 15) ceremony, hosted by writer and actor Vicki Pepperdine, Jonathan Perera's script for the Jessica Chastain-starring political drama Miss Sloane won the best screenplay award, beating Gaby Chiappe's and Paul Laverty's nominations for Their Finest and The Olive Tree respectively.
The best first screenplay award went to Babak Anvari for his Bafta-winning horror Under The Shadow, which triumphed over Johnny Harris' nomination for Jawbone and Francis Lee's nomination for God's Own Country.
Steven Knight, Chips Hardy, Ben Hervey and Emily Ballou took home the award for best long form TV drama for their work on BBC period series Taboo, besting Jed Mercurio, nominated for Line Of Duty series four, and Roger Williams, nominated for Welsh bilingual drama Bang.
Pepperdine commented: "As a previous Writers' Guild Award winner I know how much it means to receive one.
"The knowledge that your peers have considered your work to be the very best in its class is a great accolade, which writers working in any of the broad range of media recognised by the Guild, would be proud to receive. It has been a great privilege to be invited to host the Writers' Guild Awards ceremony this year, when once again we honour some truly inspirational writing talent."