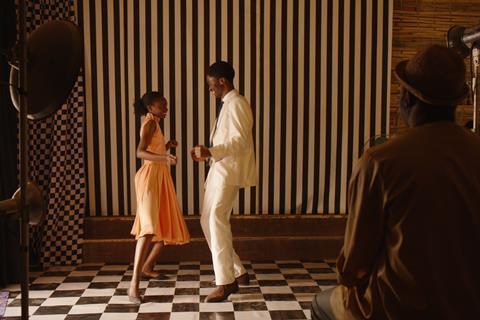 Paris-based mk2 films has launched sales on Robert Guédiguian's youthful 1960s West Africa-set love story Mali Twist at this year's Unifrance Rendez-Vous with French Cinema, which is running online from January 13 to 15.
The company has unveiled a first look image (see above) of the feature set against the backdrop of the febrile atmosphere of post-Colonial Mali, where youngsters danced to rock and roll music in the capital of Bamako against a backdrop of dreams of political renewal.
French actors Stéphane Bak and Alicia Da Luz Gomes co-star as a young socialist and a spirited young woman, who wants to escape her arranged marriage, whose paths collide.
Shot on location in Senegal last year, the picture marks a rare foray for Guédiguian away from his home city of Marseille and the surrounding region, which have been the locations of most of his filmography including recent titles Gloria Mundi and The House By The Sea, both of which debuted in Venice.
The film was among five new French titles showcased by mk2 films in a special Rendez-Vous online presentation of Wednesday.
Céline Sciamma project
In other news, mk2 confirmed media reports that it was handling Céline Sciamma's upcoming film Petite Maman. It said it had shot in December and is currently editing but noted it would not be chasing pre-sales, preferring instead to wait for the finished film.
In further announcements, the company unveiled two new French projects: Anaïs Volpé's debut feature The Braves and Antoine Vitkine's documentary The Savior For Sale.
The Braves revolves around two inseparable best-friends and aspiring actresses, whose friendship is put to the test when one of them is cast as the lead in a high-profile play, the other as her understudy. Déborah Lukumuena, best known internationally for her performance in Divines, co-stars opposite Souheila Yacoub, whose credits include Gaspar Noé's Climax.
The Savior For Sale explores the vagaries of the international art market, from New York to the Gulf, through the case of the infamous Leonardo da Vinci painting 'Salvator Mundi' which was sold at auction for $450m, in a deal that was then beset with rumours that it had not been painted by the Renaissance master.
Previously-announced titles on the slate include Carine Tardieu's taboo-breaking love story The Young Lovers, starring Fanny Ardant as a woman in her 70s who embarks on an affair with a married man 20 years her junior played by Melvil Poupaud, for which it showed first images. It also showed a new promo reel for Axelle Ropert's Petite Solange, revolving around a teenager whose world falls apart when her parents (played by Léa Drucker and Philippe Katerine) get divorced. Both films will be ready for delivery this spring.
Productions from outside France, include The Worst Person In The World, the final chapter in Norwegian director Joachim Trier's Oslo trilogy, and Lebanese filmmaker Mounia Akl's Costa Brava Lebanon. The film, starring Nadine Labaki and Saleh Bakri as a couple whose dreams of escape from the city are shattered by the arrival of a landfill next door to their mountain home, recently wrapped shooting in Lebanon.