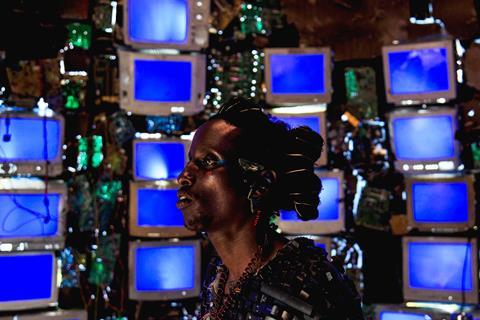 Afrofuturist musical Neptune Frost, directed by Saul Williams and Anisia Uzeyman, won the inaugural $96,500 (A$140,000) Bright Horizons Award at the Melbourne International Film Festival (MIFF) on Saturday (August 20).
Jub Clerc's direction in her ovation-inducing coming-of-age debut drama Sweet As took home the $48,000 (A$70,000) Innovation Award, open only to Australians.
US-Rwanda co-production Neptune Frost premiered in Cannes' Directors Fortnight in 2021 and went on to screen at TIFF, Sundance and the New York Film Festival. Kino Lorber has international rights.
The jury, led by Australian actor/director Shareena Clanton, said the feature was like nothing they had ever seen before: "By disrupting the colonial gaze and connecting the rising influence of technology in all our lives, this film penetrates deeply into your heart and soul to say that you are not too far disconnected from me. It felt at once absolutely specific, and entirely global."
Sweet As, which received its world premiere at MIFF and will next play Toronto, prompted the jury to state: "It crossed worlds and intersected certain realities – incredibly difficult to achieve, even for any accomplished filmmaker. We hope that this award… not just inspires more Indigenous women to be central characters in their own stories but helps show just how resilient and beautiful Indigenous women are."
The introduction of both prizes coincided with MIFF's 70th anniversary and each film in the main competition film was shown first on IMAX. Other 70th elements included three commissioned shorts, the publication of a book, and the launch of an ongoing online archive.
Directors Bruce Permezel and Rhian Skirving's Greenhouse By Joost, a local documentary about growing your own food in a major city and not generating any waste, won the audience prize.
The in-cinema portion of MIFF has wrapped but Australia-wide offerings continue online until August 28 as MIFF Play.
Artistic director Al Cossar told Screen that the "financially and professionally transformative" Bright Horizons prize aimed to amplify emerging talent – first and second films are eligible. It is one of the richest film prizes in the world – and at 25 consecutive days, the festival is one of the longest.
"It definitely allowed us to confirm a number of significant films… where there were other significant opportunities for the film teams to choose," added Cossar.
"I was most excited that it allowed us to bring over incredible artists alongside these films. In a normal year, pre-Covid, it could be a challenge to get international guests 30 hours across the world in the dead of winter."
Eight of the 11 competition titles had guests, including from Costa Rica, France, Mexico, the Philippines and US.
Sweet As, Greenhouse By Joost and opening night film Goran Stolevski's Of An Age were three of the record 11 films financed from MIFF's Premiere Fund. All were among MIFF's most popular films.
The fund is part of MIFF's industry program alongside the Accelerator lab for short filmmakers with features in development and the 37º South Market. Industry director Mark Woods said Stolevski is an Accelerator alumni and market regular Bankside was part of the financing.
Films can receive up to $138,000 (A$200,000) from the Premiere Fund and are chosen by Woods, the artistic director and chair Teresa Zolnierkiewicz, two rotating board members and someone from outside Victoria.
"Probably a third of the time we are first in," said Woods. "It is for stories that need telling and voices that need to be heard. Issues we like to lean into are diversity, mental health in the face of great change, the environment and the reality of coming of age."
This was the first in-person festival for three years and Cossar said audiences were less likely to plan in advance. The mantra was "meeting audiences where they are", which meant suburban and regional locations, MIFF Play and a globally available XR platform. On one day there were 26 screens running simultaneously.
"We're not of the opinion that Covid is over", said Cossar. "This is something we'll be living with for many years, and we'll review our activities year to year to stay as relevant to the world around us on an ongoing basis. I expect the digital space to continue."
Overall ticket data was unavailable but other popular films were The Lost City of Melbourne, Decision to Leave, Triangle of Sadness, Moonage Daydream, Aftersun, Marcel The Shell With Shoes On, Fire Of Love and Three Thousand Years Of Longing.