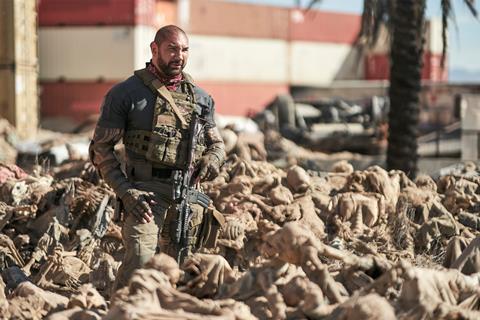 One year on from Netflix's 26m global subscriber surge fuelled by the early days of the pandemic, the streamer's membership levels climbed a far more modest 1.54m in the second quarter.
In a mixed earnings report in which executives cited "choppiness" due to the ongoing impact of Covid, membership and revenue marginally beat analysts' forecasts while earnings per share disappointed.
Eager to accentuate the positive, executives talked about a move into gaming, which will initially focus mostly on games for mobile devices and is seen as an opportunity to acquire titles, build original brands, and create franchises from IP Netflix already owns. The company recently hired industry veteran Mike Verdu as its VP of game development. It is not known when games will launch on the platform.
Revenue for the quarter climbed 19% year-on-year from $6.15bn to $7.34bn and are forecast to rise to $7.48bn in the third quarter. Earnings per share was $2.97, down on internal and analysts' forecasts of $3.16 and $3.14, respectively.
Roughly two-thirds of the 1.54m membership gain in the second quarter came from the Asia Pacific region, while the US and Canada – now referred to in Netflix's reporting as UCAN – saw a loss of 400,000 subscribers in a landscape where rival platforms have come online in the past two years. The company forecasts a 3.5m global membership gain in the third quarter.
Netflix executives attributed the UCAN subscriber drop to the large membership base in the region and the relative lack of new titles. To that point, executives noted Covid-related production delays in 2020 created a "lighter first half of 2021 slate". The streamer has already spent $8bn on content in the first half of the year (up 41% year-on-year) and anticipates a strong second half in terms of new content.
The third quarter slate will include new seasons of shows like Money Heist and Sex Education, as well as features such as Sweet Girl starring Jason Momoa, Kissing Booth 3 and Kate, and animated feature Vivo.
The streamer said its international prospects remained strong. CFO Spencer Neumann hinted at encouraging growth potential in the Asia Pacific region, where Netflix's market penetration is around 10%. The company said its mobile-only plan has rolled out into a further 78 countries in southeast Asia and sub-Saharan Africa and described the process as revenue-neutral due to the balance between lower membership costs and better retention rates. Netflix did not elaborate on retention rates.
P&L expenditure on local-language content has more than doubled in the past two years. The second season of French series Lupin was the biggest non-English-language hit in the second quarter on 54m views, while Season 4 of Spain's Elite drew 37m, and Season 2 of Mexico's Who Killed Sara? drew 34m in the first 28 days on the service.
The numbers are unverified by a third party and refer to the number of subscribers who watched a minimum of two minutes of a piece of content.
In other viewing highlights, Netflix said that in the first 28 days some 75m households watched Zack Snyder's film Army Of The Dead (prequel Army Of Thieves is expected to drop in the autumn and an animé prequel series is in the works) and 74m are forecast to watch Kevin Hart drama Fatherhood. The Mitchells vs. The Machines, which Netflix acquired from Sony, has been the most watched animated film om Netflix so far with 53m households. Extraction remains the service's most-watched film on 99m.
In TV, more than 55m member households watched fantasy series Shadow And Bone in its first 28 days, while 60m watched DC Comic adaptation Sweet Tooth.
Despite the growing number of streaming platforms, co-CEO Reed Hastings expressed optimism about growth opportunities. Netflix claimed in its letter to shareholders that it is mostly competing with itself to improve as quickly as possible.
Streaming is catching up with linear and now accounts for 27% of US TV screen time according to Nielsen, which estimated Netflix has a 7% share of US TV screen time. That compares to 6% for YouTube, 3% for Hulu, 2% for Prime Video and 2% for Disney Plus. For reference, Cable accounts for 40% of US TV screen time and broadcast 23%.
Netflix said in the letter it did not believe media consolidation of WarnerMedia and Discovery and Amazon's impending acquisition of MGM will have much impact on its growth given that consolidation has been going on for a number of years with negligible impact on the company.