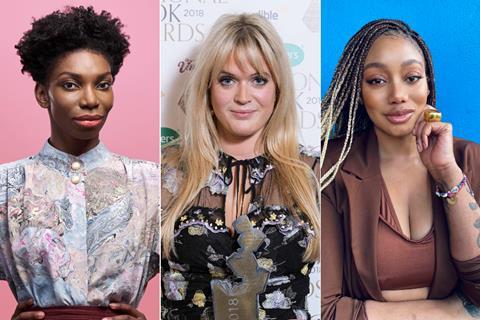 A project from I May Destroy You creator Michaela Coel and a series from Working Title are in the works from the BBC drama department, which set out details of six new commissions today.
The commissions were announced by Piers Wenger, BBC director of drama, and include Shane Meadows' The Gallows Pole, announced earlier by Screen.
New BBC dramas include Working Title's Everything I Know About Love, adapted by journalist Dolly Alderton from her memoir of the same name.
The series will follow Maggie and Birdy, two best friends who arrive in London to 'live it large', only for one of them to get a steady boyfriend. According to the BBC, it will take in bad dates and squalid flat-shares, heartaches and humiliations, and unbreakable female friendships.
It is executive produced by Jo McClellan for the BBC, Alderton, and Surian Fletcher-Jones, Tim Bevan and Eric Fellner for Working Title Television.
Details on the Coel project are yet-to-be-announced, with Wenger saying "more news to follow in due course" on it. Coel, a Screen Star of Tomorrow from 2017, made her 2020 hit drama I May Destroy You with the BBC, after turning down a reported $1m offer from Netflix due to the streamer not granting her full ownership rights.
Rocks writer
Also commissioned by the BBC is Wahala, adapted by Theresa Ikoko from Nikki May's soon-to-be-published debut novel of the same name. The series will follow three 30-something Anglo-Nigerian female friends living in London, navigating a world that mixes roast dinners with jollof rice. A beautiful, charismatic and wealthy woman infiltrates their group, unravelling bonds with tragic consequences.
Ikoko, who was nominated for three Bafta Film Awards at last month's ceremony for co-writing Rocks, described the series as "Big Little Lies meets Girlfriends meets Peckham… a really amazing celebration of Nigerian British culture, which I'm a proud flag-bearer of…"
Wahala is executive produced by Mona Qureshi for the BBC and Elizabeth Kilgarrif for Firebird Pictures.
Daisy May Cooper, star of BBC comedy This Country, will lead the cast of Cash Carraway (working title), named after its creator. It will follow a working-class single mother living with her 10-year-old daughter in the brutal landscape of austerity Britain.
McClellan is executive producing for the BBC with Sally Woodward Gentle and Lee Morris for Sid Gentle Films and Carraway. BBC Studios will distribute the latter two series internationally.
Further BBC projects include Champion, an original drama series from writer Candice Carty-Williams and produced by Blue Story producer Joy Gharoro-Akpojotor, about a young rap performer stepping out from the shadow of her elder brother following his release from prison.
It is executive produced by McClellan for the BBC, Skins creator Bryan Elsley, Dave Evans and Danielle Scott-Haughton for Balloon Entertainment, Charlie Pattinson, Willow Grylls and Imogen O'Sullivan for New Pictures, and Carty-Williams.
Finally Marriage, a four-part drama from Stefan Golaszewski, will examine in detail the fears, frustrations and salvation of a marriage between a couple who need each other.
Tommy Bulfin is executive producing for the BBC, with Beth Willis and George Faber for The Forge and Richard Laxton and Golaszewski for The Money Men.
"In 2021, there are many places for audiences to access premium content," said Wenger. "But it is our commitment to creative risk and our passion for Britain's stand-out writing talent which ensures that even in the age of global streamers, we are able to win big."
Recent BBC drama productions include Steve McQueen's Small Axe anthology series; I May Destroy You; and Normal People, which totalled 15, eight and seven respectively in last month's Bafta TV nominations.