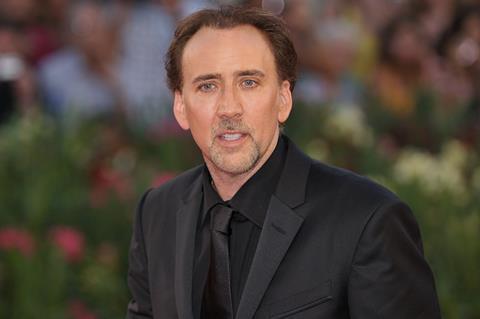 Nicolas Cage has reunited with Mandy producer SpectreVision and ACE Pictures on H.P. Lovecraft adaptation Color Out Of Space to co-star Joely Richardson.
Principal photography is scheduled to begin next month on the story of The Gardner family, who witness a metreorite crash into the front garden of their remote New England farmstead and infect everthing it touches with an otherwordly colour.
Joining Cage and Richardson on the cast are Tommy Chong, Elliot Knight, Julian Hilliard and Q'Orianka Kilcher.
Cult South African director Richard Stanley returns to the chair for the first time in more than two decades after he was famously fired from the 1996 production of The Island Of Dr. Moreau with Marlon Brando and Val Kilmer three days into production. The infamous event was chronicled in the 2014 documentary Lost Soul: The Doomed Journey Of Richard Stanley's Island Of Dr. Moreau.
SpectreVision's Daniel Noah, Josh C. Waller, Lisa Whalen and Elijah Wood are producing. Timur Bekbosunov, Johnny Chang, Emma Lee and Peter Wong serve as executive producers for ACE Pictures, alongside Stacy Jorgensen for SpectreVision.
SpectreVision partner Daniel Noah said, "Lovecraft is the dark father of modern horror, and we have been searching for an adaptation that captures the true scope of his cosmic dread for years. Richard Stanley – a wizard in his own right – will at long last bring Lovecraft's humbling power to the screen unfiltered."
Ace Pictures Entertainment CEO Chang added, "ACE Pictures Entertainment is thrilled to finance and co-produce Color Out Of Space, our second collaboration with SpectreVision. The adaptation by Richard Stanley is outstanding and unique, a perfect canvas for Nicolas Cage's inimitable acting style. We are tremendously excited to continue our partnership with SpectreVision and their signature style of genre."
SpectreVision and Cage collaborated on the Sundance 2018 fantasy horror Mandy.