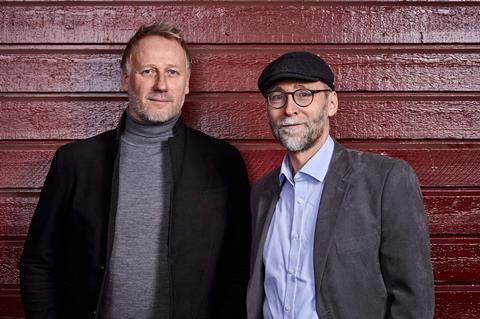 Nordisk Film has acquired the screen rights to two new books from historian Tom Buk-Swienty about author Karen Blixen (aka Isak Dinesen) and scientist Niels Bohr.
Mikael Rieks of Nordisk, whose credits include Oscar-nominated Land Of Mine as well as current box-office hit That Time Of Year, will produce both projects.
Out of Africa author Blixen will be the subject of The Lioness, a feature film and TV mini-series which will cover her life as an upperclass Danish woman who became a coffee farmer in colonial Kenya from 1914-1931. Jakob Weis (That Time of Year) will write the script based on Buk-Swienty's forthcoming biography. The film is expected to be ready for 2021 or 2022.
Bohr, one of the fathers of the nuclear bomb, will be the subject of The Great Dane (working title, planned for 2023 release), based on Buk-Swienty's forthcoming biography (set for 2022 publication). Because of his Jewish heritage, Bohr had to flee German-occupied Denmark in 1943 to neutral Sweden, only narrowly escaping before being smuggled to the UK. Then under a cover name, he was sent to the US to participate in the Manhattan Project at Los Alamos. The biopic will also look at Bohr's deep misgivings about the nuclear bomb and his inspired, but ultimately unsuccessful, campaign to prevent a nuclear arms race with the Soviet Union.
Rieks said of The Lioness: "With Tom Buk-Swienty's new narrative we have the material to tell a topical and exciting story that goes behind the many myths she created about herself in Out Of Africa. We will depict the period in Karen Blixen's life when she steps into the role of businesswoman and adventurer, presenting a highly fascinating portrait of a very modern woman whose life resonates deeply with the fundamental issues of our times."
Buk-Swienty added: "Karen Blixen had an insatiable appetite for wild adventure and her life was truly larger than life…She is both fabulous and terrible, reckless and spoiled, desperate and in love, but she never ceased to be an undaunted warrior with a heart of gold.
Rieks said of The Great Dane, "For a long time, I have wanted to turn the life of Niels Bohr – and especially the events during and after World War II – into an international film. More than ever before, Tom Buk-Swienty's biography on Niels Bohr will give us a much more intimate look at the scientist and the private man…I have no doubt, that I've found the best possible starting point for an epic tale of war and love, creative power and curiosity, triumph and despair."