Television show to air on ABC (Australia), TVNZ, Netflix in 2018.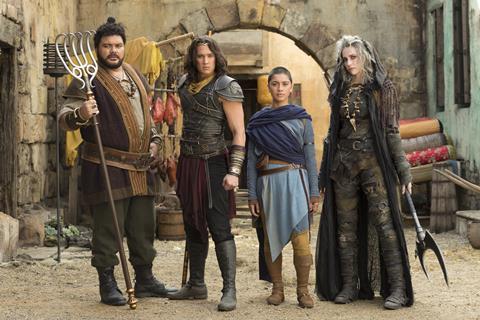 Production is underway in New Zealand on live-action television series The Legend Of Monkey that See-Saw Films is producing with Jump Film & TV.
The series is an official New Zealand-Australian co-production with principal investment from Screen Australia in association with Screen NSW, Fulcrum Media Finance and the New Zealand Screen Production Grant.
The series from head writer Jacquelin Perske, along with writers Craig Irvin and Samantha Strauss, is filming on location in and around Auckland, New Zealand, and will premiere on ABC (Australia), TVNZ and Netflix in 2018.
Gerard Johnstone is the lead director, with Craig Irvin directing additional episodes on the show, inspired by the 16th Century Chinese fable Journey To The West.
The 10-part half-hour series follows a teenage girl and a trio of fallen gods on a perilous journey as they attempt to bring an end to a demonic reign of chaos and restore balance to their world. The cast includes Chai Hansen, Luciane Buchanan, Josh Thomson and Emilie Cocquerel.
"The mythical tale of the Monkey King is a story that continues to captivate global audiences," Michael Carrington, head of children's at ABC Television, said. "Our production partner See-Saw Films is bringing The Legend Of Monkey to life through incredible locations and sets, an acclaimed production team and an exciting diverse young cast.

Rachel Gardner of See-Saw Films said: "Jacquelin has adapted this classic literary work in such a way as to create an original fantasy world that is occupied by charismatic and interesting characters that will entertain all ages. Brought to life by the vision of Gerard, the story and setting will not be like anything we've seen before."
Jump Film & TV's Robin Scholes added: "Gerard has the best people working at every level beside him so the production values on screen for cinematography, design, costume, and make up, are breathtaking as are the performances of a largely New Zealand cast. We're also thrilled that Australian and New Zealand audiences will see it first on ABC and TVNZ."
Andrew Shaw, TVNZ's general manager of acquisitions, commissioning and production, said: "This is an extraordinary project to be involved with and we can't wait to be the first to bring it to New Zealand audiences.

"Shot in New Zealand, with a team of Kiwis taking key roles in front and behind the cameras, The Legend Of Monkey is big budget fantasy drama series that will surprise and delight family viewers globally and locally."
Andy Yeatman, director of global kids content at Netflix said the Monkey King story had "mesmerised fans for ages", while Jamie Laurenson and Hakan Kousetta of See-Saw Films said the project would bring "an astonishing fantasy world to life."