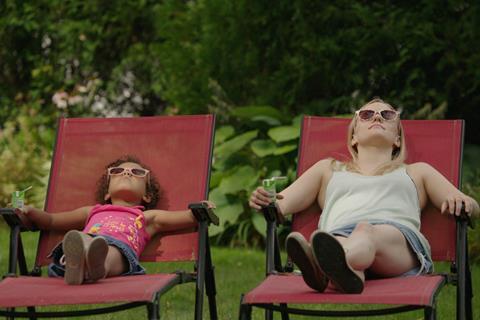 Films released via Oscilloscope Laboratories' virtual cinema initiative have generated more than $200,000 since the company reconfigured its distribution plans when the coronavirus pandemic forced theatres to close.
Through Thursday (May 14), Saint Frances, Other Music, Best Of CatVideoFest, The Infiltrators and Clementine had generated $215,108 at the virtual box office.
O-Scope kicked off its virtual cinema programme with The Avalon venue in Washington DC on March 16 as soon as it became clear theatre closures would endure for a while.
The New York-based distrbutor splits net revenue with participating theatres, who typically set a $12 price point for online ticket sales.
Alex Thompson's SXSW 2019 selection Saint Frances opened theatrically on February 28 and grossed $45,849 in two weeks before its run was forced to end.
The comedy drama had been scheduled to expand on March 13, and launched online on March 17. Since then it has amassed $105,718, playing at its height on 126 virtual screens. Kelly O'Sullivan stars as a waitress who rethinks her life after she is charged with the care of a six-year-old girl (Ramona Edith Williams).
None of the other releases played in theatres before their virtual cinema debuts.
Documentary Other Music from Puloma Basu and Rob Hatch-Miller received its world premiere at Tribeca 2019 and had been set to open theatrically on April 17 in honour of Record Store Day 2020.
When theatres closed their doors, distributor Factory 25 partnered with O-Scope and pivoted the release date into a virtual one and posted a purchase link on more than 50 theatre and record store websites. The film, about the eponymous influential New York music hub, has generated $49,192 in sales and played on a maximum of 184 virtual screens.
Best Of CatVideoFest is O-Scope's annual event release and comprises internet cat videos. In contrast to its standard virtual cinema pricing model, the distributor set up a pay-what-you-want model and receives about 25% of net revenue. Since it debuted on April 10 the film has achieved $47,757 and reached a maximum screen count of 127.
Sundance 2019 drama The Infiltrators from Cristina Ibarra and Alex Rivera centres on a group of Dreamers who infiltrate a shadowy for-profit detention centre. After the theatrical release was scrapped, O-Scope secured grass-roots support from non-profits working with immigrants and detainees, who posted purchase links on their websites. The film debuted on May 1 and has generated an initial $6,407.
Lara Gallagher's Tribeca 2019 break-up drama Clementine has generated $6,034 since it debuted on May 8.