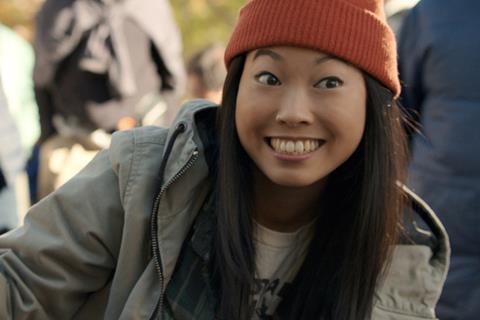 Rising US actor and rapper Awkwafina, now on global screens in Ocean's 8, is set to star in Lulu Wang's as-yet-untitled feature set in China for US production outfit Big Beach Films.
The film is based on the experiences of a Chinese-American woman and her Chinese grandmother and will shoot in Los Angeles and in China. Tzi Ma and Diana Lin are also in the cast.
The feature is being produced by Marc Turtletaub, Peter Saraf and Dani Melia of New York outfit Big Beach, Chris Weitz and Andrew Miano of Depth of Field, Jane Zheng of Seesaw, and Anita Gou of Kindred Spirit. Big Beach and Kindred Spirit will finance.
Turtletaub revealed details of the project at the Edinburgh International Film Festival which opened last night (Wednesday June 20) with the UK gala premiere of Puzzle, Turtletaub's second film as director.
Puzzle stars Kelly Macdonald as a suburban housewife who discovers an unlikely talent for competitive jigsaw puzzle solving. Sony is releasing the film in late August.
Big Beach, whose credits include Loving and Little Miss Sunshine, is also in pre-production on You Are My Friend, starring Tom Hanks as US TV personality Fred Rogers, which will shoot in September for TriStar Pictures. It is being directed by Marielle Heller who previously made Diary Of A Teenage Girl.
"It's a really interesting combination of a big movie star, Tom Hanks, and a wonderfully talented young female director who is very visionary," said Turtletaub. Focus Features just released the Fred Rogers documentary Won't You Be My Neighbor? in the US.

Big Beach is also working on David Wnendt's comedy drama The Sunlit Night, starring Jenny Slate and Zach Galifianakis, which is set and will shoot in Norway.
Big Beach also has an increasingly active TV arm which is producing the Starz series Vida, which has just been commissioned for a second series. Big Beach is also making two series for Facebook's original content arm Facebook Watch: Strangers, about a woman who hosts people in her home; and Sorry For Your Loss starring Elisabeth Olsen as a young widow who has recently lost her husband.