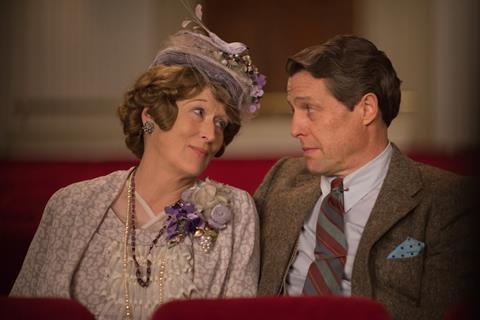 Opera singer Julia Kogan has won a court battle over the authorship of Florence Foster Jenkins and will now receive a co-writing credit on the 2016 film.
Nicholas Martin previously claimed sole credit on the Stephen Frears comedy-drama, starring Meryl Streep and Hugh Grant, and won a copyright dispute against Kogan – his ex-girlfriend – over its writing in 2017.
But a retrial at the Intellectual Property Enterprise Court (IPEC) has today ruled that Kogan was a joint author of the screenplay for the film, which took more than $49m at the worldwide box office and received two Oscar nominations.
The judge also ordered film companies Pathe Productions and Qwerty Films to update IMDb to reflect the joint authorship.
The case centred on claims made by Kogan that she made significant contributions to many aspects of the screenplay based on the life of Florence Foster Jenkins, including the original idea, the characters, the story and the dialogue, which was written during her romantic relationship with Martin.
The film centres on a wealthy heiress in 1940s New York who dreamed of becoming an opera singer, despite having a terrible singing voice.
Kogan maintained that the process of writing the screenplay was a creative collaboration in which she participated as a partner.
Martin, whose previous writing credits included UK drama series Midsomer Murders and The Bill, originally brought proceedings in 2015 to dispute that Kogan was a co-author and sought a declaration that he was the sole author and copyright owner of the screenplay.
Kogan stated: "It was soul-crushing to have years of my work stolen and to be eradicated from my own project. Before filming began, when it became clear that nobody was planning to credit or pay me for any work I'd done on Florence Foster Jenkins, we notified the film companies, Qwerty and Pathe, who had been working with me directly, that I was a co-author and copyright owner, but they refused to credit me. Instead, they chose to release the film without my name on it."
Kogan raised a counterclaim to Martin to declare that she was joint author and joint copyright owner of the screenplay, and sought relief for copyright infringement and infringement of her moral rights by Martin's exploiting it without her consent and without her being given a credit.
She also brought a similar claim against Pathe Productions and Qwerty Films, the film companies that produced and distributed the film.
The retrial was ordered by the Court of Appeal in October 2019, which found that Kogan's contribution may indeed have been made as part of a collaboration and passed the quantitative threshold for joint authorship.
The retrial not only confirmed that Kogan is 20% co-author of the screenplay, but also recognised her significant contribution to the film, and stated: "Ms Kogan's input was of great importance to all the central characters. One cannot easily reflect this kind of contribution by pointing to specific dialogue or scenes because it suffuses the whole screenplay."
Kogan was represented by Lawrence Abramson and Robert Pocknell of Keystone Law.
Following the judgment, a joint statement issued by Pathe Productions and Qwerty Films said: "We regret that Julia Kogan's dispute with Nick Martin over authorship of the screenplay for Florence Foster Jenkins could not be resolved out of court.
"Nick believed that he was the sole author of the screenplay and the court found that Pathé and Qwerty had no reason to doubt his word. The judge also found that in the circumstances there was no criticism of Pathé or Qwerty for the fact that Julia had not been accorded a co-author credit on the film's release.
"As requested by the court, the credits that appear on the Internet Movie Database are being amended to state that the screenplay was written by Nicholas Martin and Julia Kogan. We trust that this now lays the matter to rest."