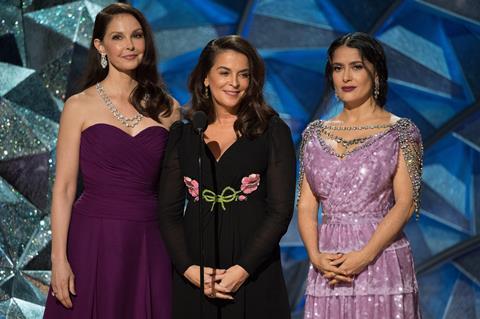 The speeches at this year's Academy Awards focused on diversity, activism and politics, as Hollywood reacted to the ongoing Weinstein scandal and the Trump administration.
Presenter Jimmy Kimmel kicked off the show with some well-judged gags in his opening monologue about harassment.
"Oscar is the most beloved and respected man in Hollywood," he said. "And there's a very good reason why. Look at him. He keeps his hands where you can see them. Never says a rude word. And most importantly, he has no penis. He is literally a statue of limitations."
"Here's how clueless Hollywood is about women," he added. "We made a movie called What Women Want and it starred Mel Gibson."
Referencing Guillermo del Toro for The Shape Of Water, which went on to win best picture, he said: "You made a beautiful movie and thanks to Guillermo we will always remember this year as the year men screwed up so badly, women started dating fish."
Kimmel also touched on the trailblazing box office success of Black Panther and Wonder Women in the last 12 months.
"Studios didn't believe a woman or an ethnic minority could open a superhero movie. I remember because it was March of last year."
Diversity
Several of the winners' speeches also focused on ethnic diversity in Hollywood.
The stand out speech of the night saw Frances McDormand call for actors to demand 'inclusion riders' – a contact clause that requires a diverse crew.
She also demanded more help making films focused on women: "Look around ladies and gentlemen, because we all have stories to tell and projects we need financed," she said. "Don't talk to us about it at the parties, invite us into your office in a couple days or you can come to ours, whichever suits you best, and we'll tell you all about them."
Collecting his best director award for The Shape Of Water, Mexican-born Guillermo del Toro commented on anti-immigration political rhetoric.
"I am an immigrant, like many, many of you, and in the last 25 years, I've been living in a country all of our own. I think the greatest thing that our industry does is erase the line in the sand. We should continue doing that, when the world tells us to make it deeper."
Back on stage again after The Shape Of Water won best picture, del Toro added: "I want to dedicate this to every young filmmaker, the youth that is showing us how things are done. Really, they are. In every country in the world."
Perhaps the most overtly political comment came from Lupita Nyong'o, presenting the production design Oscar alongside Kumail Nanjiani.
She said: "Like everyone in this room and everyone watching at home, we are dreamers. We grew up dreaming of one day working in the movies, dreams are the foundation of America. So to all the Dreamers out there, we stand with you."
Last year Donald Trump caused outrage after announcing he would scrap the Deferred Action for Childhood Arrivals (DACA) initiative known as the 'Dreamers' programme, which prevents the deportation of young, mostly Latin American, undocumented immigrants.
The deadline for lawmakers to find a solution to the issue passes today (March 5).
Jordan Peele, who became the first African- American to win the best original screenplay award for Get Out, said he thought no-one would make his racially-charged horror movie.
"I stopped writing this movie about 20 times because I thought it was impossible. I thought it wasn't going to work. I thought no one would ever make this movie. But I kept coming back to it, because I knew if someone let me make this movie, that people would hear it and people would see it."
In what was a fantastic night for Mexico, the filmmakers behind Pixar hit Coco also referenced recent political debates, with director Lee Unkrich saying: "With Coco we tried to take a step forward toward a world where all children can grow up seeing characters in movies that look and talk and live like they do. Marginalized people deserve to feel like they belong. Representation matters. The biggest thank you of all [goes] to the people of Mexico. Coco would not exist without your endlessly beautiful culture and traditions."
Weinstein scandal
The Oscars ceremony also tackled the Weinstein harassment scandal by screening a video segment focusing on the Time's Up movement featuring Dee Rees, Ava DuVernay, Hayek, Sarah Silverman, Kumail Nanjiani, Barry Jenkins, Lee Daniels, and Greta Gerwig.
The video was presented by Ashley Judd, Salma Hayek and Annabella Sciorra, who have all accused Weinstein of sexual misconduct.
Sciorra, implying her career was curtailed after her experiences with Weinstein, said: "It's nice to see you all again, it's been awhile. It's an honour to be here tonight. This year many spoke their truth and the journey ahead is long, but slowly, a new path has emerged."
Ashley Judd added: "The changes we are witnessing are being driven by the powerful sound of new voices, different voices, of our voices, who are joining together in a mighty chorus that is finally saying Time's Up."
"We work together to make sure that the next 90 years empower these limitless possibilities of equality, diversity, inclusion, intersectionality. That's what this year has promised us."