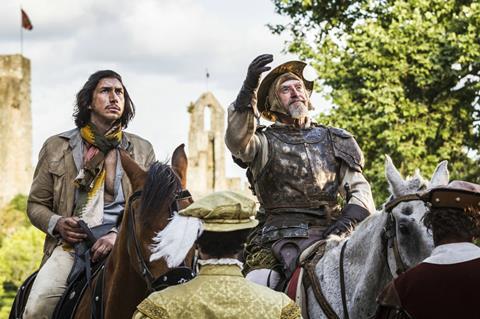 The UK's Recorded Picture Company (RPC) has won a high court case in London over a long-running rights dispute over Terry Gilliam's The Man Who Killed Don Quixote.
Portuguese producer Paulo Branco and French production company Alfama Films sought almost €1m in damages due to a breach in an agreement giving them the option to make the film. The damages would comprise pre-production costs and a producer's fee.
But the claims were dismissed as the UK court concluded Alfama Films and Branco never had a substantial chance of making the film, following a souring of the relationship between Gilliam and the producer.
The trial considered whether the director and Branco would have reconciled after the breakdown in their relationship and – if there was such a reconciliation – if the producer would have been able to raise the necessary finance for the film.
RPC's case was that the answer to both these questions was 'no' and the judge dismissed the claim by Branco and Alfama Films.
After relations broke down between Gilliam and Branco, RPC granted an option to Spanish production company Tornasol films in 2016, which eventually led to the film being made.
The Man Who Killed Don Quixote, starring Adam Driver and Jonathan Pryce, debuted at the Cannes Film Festival in 2018, despite a bid by Branco to secure an injunction and prevent the premiere. A Paris court ruled against Branco on that occasion.
The film was released by Sparky Pictures in the UK and Screen Media Films in the US in 2019
The ruling seemingly brings to a close more than 20 years of troubles associated with the production. An initial attempt to make the film in 2000, starring Johnny Depp and Jean Rochefort, was abandoned after being beset by disasters including a flash flood and illness on the part of Rochefort. This was chronicled in documentary Lost In La Mancha, which premiered at the Berlinale in 2002.
The directors of that documentary, Keith Fulton and Lou Pepe, went on to make a follow-up titled He Dreams Of Giants, which premiered at Doc NYC and AFI Fest in 2019.