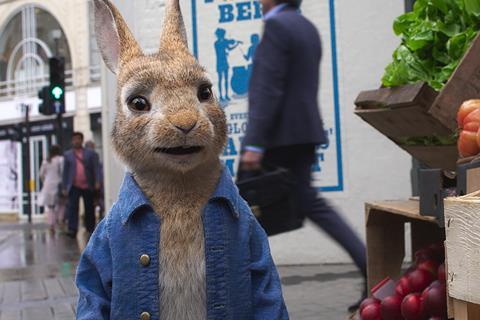 Columbia Pictures executives have delayed the US release of Peter Rabbit 2: The Runaway from May 14 until July 2 – the same July Fourth holiday weekend release date as Paramount's Top Gun: Maverick.
The move comes as cinemas across the US continue to reopen and the Covid-19 vaccination roll-out gathers pace, despite lingering concerns over the transmission of variants.
Universal recently moved F9 from May 28 to June 25 as a precaution. Less than two weeks later Sony pushed Venom: Let There Be Carnage from June 25 to September 17.
Will Gluck directed Peter Rabbit 2: The Runaway from a script he co-wrote with Patrick Burleigh in which the eponymous mischief-maker's antics put his family at risk, and he must decide what type of bunny he wants to be.
The Beatrix Potter children's adaptation stars Rose Byrne, Domhnall Gleeson, David Oyelowo, Elizabeth Debicki, with Margot Robbie, and James Corden as Peter Rabbit.
Producing are Gluck, Zareh Nalbandian, Catherine Bishop, and Jodi Hildebrand. Executive producers are Doug Belgrad, Jonathan Hludzinski, Jason Lust, Emma Topping, and Thomas Merrington.
The first film in the children's franchise, Peter Rabbit, opened in 2018 and went on to gross $351m worldwide.