Disney's Inside Out leads Fri-Sun with $3m (£1.91m) after just a 3% drop; Warner Bros' The Man from U.N.C.L.E. is the best of the other new entries with $2.3m (£1.44m).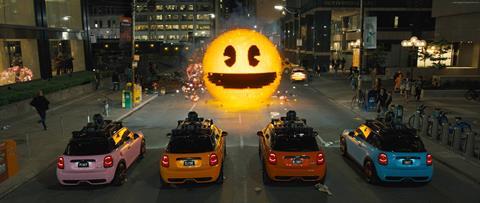 SONY
Boosted by four days of previews, Pixels has landed top of the UK box office over a busy release window.
Sony's sci-fi comedy gobbled up $4.2m (£2.7m) from its 503 sites, including $2.08m (£1.33m) from previews. Based solely on Fri-Sun takings, its $2.14m (£1.37m) tally would have seen Pixels chart fourth.
The result marks Adam Sandler's first UK box office number one since Grown Ups debuted top of the chart over the Aug 27-29, 2010 window with $3.1m (£2m) from 401 sites, including $826,000 (£527,590) in previews.
Pixels will hope that it defy its negative critical response over the coming weeks to push it towards £10m.
DISNEY
Based solely on Fri-Sun takings, a terrific drop of just 3% in its fourth weekend saw Inside Out leap back into top spot in the market.
Disney's latest Pixar offering added $3m (£1.91m) as it reached an excellent $42.9m (£27.4m), the result of another strong midweek showing with over £4.5m grossed over the past seven days overall.
As expected, it has now overtaken Ratatouille's $38.8m (£24.8m) UK result and Inside Out has the likes of A Bug's Life ($46.1m/£29.45m), Monsters University ($48m/£30.7m) and The Incredibles ($50.5m/£32.27m) firmly in its sights.
Also for Disney, Ant-Man fell 42% in its fifth weekend on its way to $510,000 (£326,000) for $24.1m (£15.4m).
PARAMOUNT
Holding off the majority of new releases, Mission: Impossible - Rogue Nation enjoyed a $2.5m (£1.58m) third weekend.
Paramount's latest outing for Ethan Hunt has now amassed $23.1m (£14.74m) in the UK, and will shortly overtake Mission: Impossible III's $24.2m (£15.45m) result.
It's in a strong position to become the highest grossing mission of the series, currently Mission: Impossible's $29.2m (£18.65m).
WARNER BROS
The Man from U.N.C.L.E. charted fourth with a $2.3m (£1.44m) debut from its 500 sites.
Warner Bros' big screen reboot of the spy series opened lower than director Guy Ritchie's two Sherlock Holmes outings, and could struggle to match the $18m (£11.5m) result of Lock, Stock and Two Smoking Barrels.
It will hope that its relatively positive reviews will lead to strong holds over the coming weeks.
UNIVERSAL
Rounding off this week's top five, Universal's Trainwreck started its UK run with a solid $1.45m (£928,399) from its 468 sites.
That does, however, mark the lowest debut for a Judd Apatow directorial offering, although it's worth noting that This is 40's $1.9m (£1.23m) opening included $498,000 (£318,566) in previews, so Trainwreck's Fri-Sun tally was ahead of that.
Also for Universal, Minions boosted 16% in its eighth weekend on its way to $908,000 (£581,217) for a terrific $67.6m (£43.24m). It's still tracking ahead of Despicable Me 2, which stood at $64.8m (£41.5m) at the same stage, so that film's $73.9m (£47.3m) result isn't yet out of reach.
Jurassic World is up to a monstrous $99.5m (£63.67m) following a $189,000 (£120,935) tenth weekend, and will end its run as the UK's eighth highest grossing film of all time.
FOX
Last week's champion Fantastic Four fell a hefty 62% (excluding previews) for a second weekend of $1.1m (£700,663).
Fox's superhero reboot has now grossed $7.6m (£4.8m) after 11 days in play, and faces a challenge to outgross the $10.8m (£6.9m) result of director Josh Trank's debut Chronicle.
Also for Fox, Secret Cinema's production of The Empire Strikes Back hit the $6.3m (£4m) mark with a $299,000 (£191,525) weekend, while Indian action-drama Brothers fought its way to $223,000 (£142,403) from its 63 sites on its UK debut.
Mistress America recorded a non-final UK bow of $234,000 (£149,782) from its 78 sites, with 18 sites still to report for Sunday [Aug 16]. Currently, it's director Noah Baumbach's third best UK opening, which will likely change when final figures are confirmed.
ENTERTAINMENT
Southpaw continued its strong UK run, dropping just 18% on its way to a $977,000 (£625,464) fourth weekend.
Entertainment's boxing drama is now up to $11m (£7.03m) and will very soon become director Antoine Fuqua's best-ever UK performer, surpassing King Arthur's $11.04m (£7.07m).
LIONSGATE
Overcoming critical disapproval, Lionsgate's Absolutely Anything opened with a respectable $760,000 (£487,091) from its 314 sites.
In terms of recent Simon Pegg outings, that's already close to outgrossing the entire $768,000 (£491,338) run of Hector and the Search for Happiness, and could yet challenge Man Up's $1.9m (£1.23m) run.
Also for Lionsgate, The Gift fell 43% with $516,000 (£330,504) for $2.3m (£1.45m) after ten days in play.
ALTITUDE
Dropping a slim 27% in its seventh weekend, Altitude's Amy added $109,000 (£70,090) from its 72 sites for $5.4m (£3.43m) to date.
On Thursday [Aug 13], Amy became the second highest grossing non-concert feature documentary of all time at the UK box office.
Also for Altitude, Marshland is up to $158,000 (£101,000) following a $36,000 (£22,861) second weekend.
VERTIGO FILMS
Playing in 41 sites in its second weekend, Vertigo Films' The Diary of a Teenage Girl took $51,000 (£32,765) for $311,000 (£198,749) to date.
EONE
Police corruption documentary Precinct Seven Five posted a UK debut of $33,000 (£21,312) from its 30 sites through eOne.
NEW WAVE FILMS
Released in 13 sites through New Wave Films, Theeb grossed $17,000 (£10,716) on its UK debut.
UPCOMING RELEASES
This week sees saturation releases for Fox's Paper Towns (opens today, Aug 17), Warner Bros' Vacation and Entertainment's The Bad Education Movie.
eOne's Sinister 2 and Soda Pictures' Gemma Bovery both receive wide releases, while Disney's Strange Magic, Peccadillo Pictures' The Treatment and Kaleidoscope Entertainment's The Wolfpack are among the films receiving a limited release.