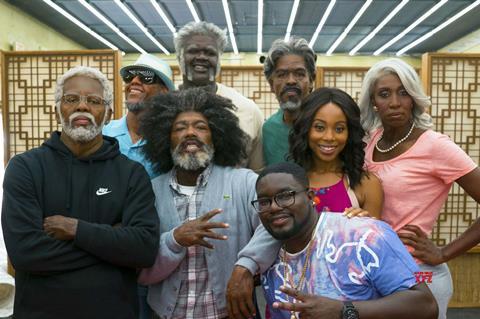 Manila-based distributor Rafaella Films International has acquired Philippines rights to basketball comedy Uncle Drew from Lionsgate.
Directed by Charles Stone III (Step Sisters), the film stars NBA legends Kyrie Irving, Shaquille O'Neal and Reggie Miller, along with Lil Rel Howery, Tiffany Haddish and Nick Kroll. It was produced by Temple Hill and PepsiCo's Creators League Studios.
Rafaella Films will release the film theatrically day-and-date with its North American release on June 29.
"Our target audience already knows and loves the Uncle Drew character who has been an online sensation for years," said Rafaella Films International vice president Eric Yabut. "We are delighted to be working with Lionsgate on this outrageous comedy that we expect to connect with audiences in the Philippines and around the world."
The deal was negotiated by Lionsgate executive vice president of International Sales and China/Asia Productions & Strategy, Wendy Reeds, with Yabut and acquisitions consultant David Marsh.
Rafaella Films is a fast-expanding Philippines distributor, which has handled titles including Yeon Sang-ho's Train To Busan.