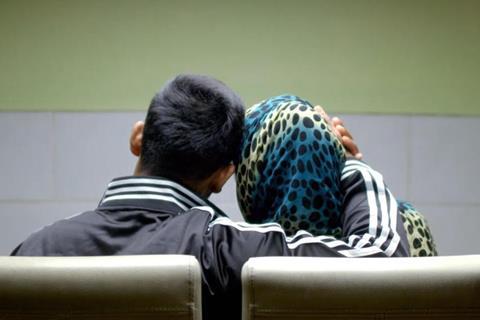 Raindance Film Festival has set a programme of 59 feature films for its 2021 edition, which will run from October 27 to November 6 as a hybrid festival of in-person London screenings and online films via new digital partner Curzon Home Cinema.
For its in-person screenings, the festival has struck new partnerships with six London cinemas – three Curzon venues (Hoxton, Soho, Mayfair), plus Genesis Cinema, Regent Street Cinema and Bertha DocHouse.
Scroll down for the full feature programme
It has also partnered with Curzon Home Cinema for UK-wide online screenings, with all titles from the official selection available on a pay-per-view basis via Curzon Home Cinema's app. Details on the revenue split between distributors, the festival and Curzon are yet to be confirmed.
Raindance 2020 ran as a predominantly online event; 70% of the online audience was located outside of London, which has motivated the continuation of a significant digital presence for this year.
The festival will open with the UK theatrical premiere of Lina Roessler's Best Sellers starring Michael Caine, Aubrey Plaza and Cary Elwes. The film first screened at the in-person Berlin Film Festival event in June, going on to play Melbourne and Karlovy Vary film festivals.
The UK premiere of Anita Rocha da Silveira's Medusa, in which a group of Christian women gang up to attack women who they judge to be too liberal or promiscuous, will close the festival.
The festival has added two new thematic strands for 2021: Screamdance for horror titles, and Boomerang, which aims to embrace 'the joy of indie film'.
Five features will have world premieres at the event, including Luke Cutforth's The Drowning Of Arthur Braxton, about a bullied teenager who falls in love with a mermaid-like girl in his local swimming pool. Also debuting at the festival is Sonita Gale's Hostile, a documentary exploring the increasing expulsion from the UK of the migrants on which the country has relied for decades.
Awards will be given in eight categories across the full official selection, including best international film, best UK film, best director and best performance. A 33-strong jury includes actors Fiona Shaw, Natalie Dormer, Phoebe Dynevor, Mena Massoud and Tobias Menzies; LGBTI+ campaigner Peter Tatchell; and industry executives including Head Gear Films managing director Phil Hunt and Curzon's director of programme and distribution sales Damian Spandley.
Raindance 2021 programme
Best Sellers (Can) dir. Lina Roessler – opening gala
Medusa (Braz) dir. Anita Rocha da Silveira – closing gala
Absurdities
In The Mirror (Lat) dir. Laila Pakalnina
The Noise of Engines (Can) dir. Philippe Gregorie
King Car (Braz) dir. Renata Pinheiro
Tzarevna Scaling (Rus) dir. Uldus Bakhtiozina
The Day I Found A Girl In The Trash (Pol) dir. Michal Krzywicki
Boomerang
All Sorts (US) dir. J. Rick Castaneda
My Heart Goes Boom! (Sp-It) dir. Nacho Alvarez
Zip It (Egy-S Arabia-UK) dir. Anicee Gohar
Sweet Disaster (Ger) dir. Laura Lehmus
Discovery
As Far As I Know (Hun) dirs. Nandor Lorincz, Balint Nagy
Mayday (US) dir. Karen Cinorre
Second Thoughts (Ger) dir. Zora Rux
Shapeless (US) dir. Samantha Aldana
The Hill Where Lionesses Roar (Fr-Kos-US) dir. Luana Bajrami
Ascension (US) dir. Jessica Kingdon
Female Gaze
My Sunny Maad (Cze-Fr-Slovakia) dir. Michaela Pavlatova
Porcelain (It-Bel-Neth) dir. Jenneke Boeijink
Shadow (Por) dir. Bruno Gascon
Subjects of Desire (Can) dir. Jennifer Holness
Generation
Beans (Can) dir. Tracey Deer
Sami, Joe And I (Switz) dir. Karin Heberlein
The Revolution Generation (US) dirs. Josh Tickell, Rebecca Harrell Tickell
Viral (Ger) dirs. Udi Nir, Sagi Bornstein
Youth v Gov (US) dir. Christi Cooper
Homegrown
A Bird Flew In (UK) dir. Kirsty Bell – world premiere
The Drowning of Arthur Braxton (UK) dir. Luke Cutforth – world premiere
Listen (UK-Por) dir. Ana Rocha
I Am Gen Z (UK) dir. Liz Smith
Hostile (UK) dir. Sonita Gale – world premiere
Icons
The Rossellinis (It-Lat) dirs. Alessandro Rossellini, Lorenzo d'Amico de Carvalho
Jean Seberg: Actress Activist Icon (US) dirs. Kelly Rundle, Garry McGee
Oscar Micheaux – The Superhero of Black Filmmaking (It) dir. Francesco Zippel
Politico
The Caviar Connection (Fr) dir. Benoit Bringer
White Noise (US) dir. Daniel Lombroso
Power, Profit And Populism: The Battle for Hard Brexit (Ger) dir. Tom Costello
Soros (US) dir. Jesse Dylan
Far Eastern Golgotha (Rus) dir. Julia Sergina
Children of the Enemy (Swe-Den-Qat) dir. Gorki Glaser-Muller
Queer
Miguel's War (Leb-Sp-Ger) dir. Eliane Raheb
The Pop Song (Sp) dir. Raul Portero – world premiere
Girl Like You (Australia) dirs. Frances Elliott, Samantha Marlowe
Against The Current (Ice) dir. Oskar Pall Sveinsson
Screamdance
Father of Flies (UK-US) dir. Ben Charles Edwards – world premiere
The Secret of Sinchanee (US) dir. Steven Grayhm
Where's Rose (US) dir. John Mathis
The Welder (US) dir. David Liz
Vampir (UK-Ser) dir. Branko Tomovic
Sonica
Learning to Live Together: The Return of Mad Dogs & Englishmen (US) dir. Jesse Lauter
I'm Wanita (Australia) dir. Matthew Walker
Helmut Lachenmann – My Way (Ger) dir. Wiebke Popel
Out-of-Competition Gala Presentations
Hating Peter Tatchell (Australia-UK) dir. Christopher Amos
Take Me To The River: New Orleans (US) dir. Martin Shore
The Laws of the Universe: The Age of Elohim (Jap) dir. Isamu Imakake
Guest Country: Cyprus
The Man With The Answers (Cyp-Gre) dir. Stelios Kammitsis
Smuggling Hendrix (Cyp-Ger-Gre) dir. Marios Piperides
Pause (Cyp) dir. Tonia Mishiali
Patchwork (Cyp) dir. Petros Charalambous