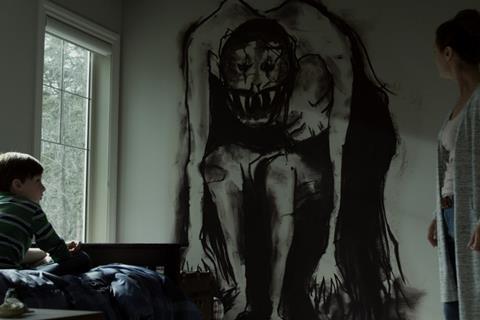 Raven Banner has swooped on Canadian distribution rights to horror Z, contagion thriller Sea Fever starring Hermione Corfield, Connie Nielsen and Dougray Scott, and supernatural thriller and Fantasia audience award winner Dead Dicks.
Z (pictured) explores what happens when a young mother begins to fear her introverted son's imaginary friend may be terrifyingly real.
Keegan Connor Tracy (Bates Motel), Sean Rogerson (Grave Encounters), Jett Klyne (The Boy), Sara Canning (The Vampire Diaries) and Stephen McHattie (Pontypool) star. Brandon Christensen directed Z, and wrote the screenplay with Colin Minihan. Chris Ball, Kurtis David Harder, Christensen and Minihan produced.
Neasa Hardiman's Sea Fever premiered at Toronto last year and stars Corfield (Star Wars: The Last Jedi) as young marine biology student who boards a trawler run by a couple (Nielsen and Scott). When the ship hits an unseen object, a mysterious bioluminescent force infiltrates the vessel and a fight for survival ensues.
Dublin-based Fantastic Films' Brendan McCarthy and John McDonnell produced the co-production with Borje Hansson of Bright Pictures (Sweden), Jean-Yves Roubin and Cassandre Warnauts of Frakas Productions (Belgium), and Eddie Dick of Makar Productions (Scotland). Patrick Ewald, Shaked Berenson, Patrick Fischer, Jonathan Feuer, Lesley Mckimm and Peter Possne served as executive producers.
Dead Dicks tells the story of a woman who discovers her brother's body has been cloned by a supernatural entity growing in his bedroom. The cast is headed by Matt Keyes, Heston Horwin and Jillian Harris.
The film won the audience award for best Canadian feature at last year's Fantasia International Film Festival.
Chris Bavota and Lee Paula Springer wrote, directed and produced through Postal Code Films. The producer roster includes Albert I. Melamed and Matt Keyes, while Heston Horwin served as executive producer.