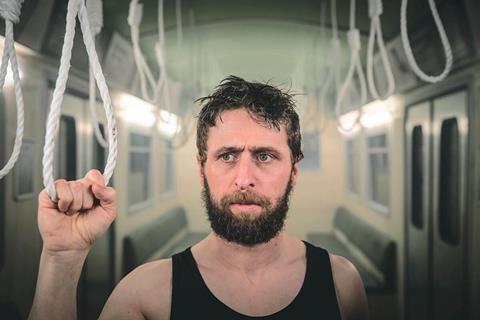 Irish director Philip Doherty's black comedy-musical Redemption Of A Rogue was a double award-winner in the online closing-night ceremony of the Galway Film Fleadh on Sunday July 12.
It won the prizes for best Irish first feature and best Irish film as the Fleadh wrapped following its transition online due to the Covid-19 pandemic.
Redemption Of A Rogue was also written by Doherty, an award-winning playwright. It is set in the northwestern county of Cavan and follows a man, played by Aaron Monaghan, as he returns to his hometown and embarks on a sacrificial and outlandish journey to rid himself of his guilt and shame from the past.
The film has already been picked up by Wildcard Distribution, which is releasing it in Irish cinemas later this year.
It was one of 10 features to world premiere at the Fleadh, along with Eoin Macken's Here Are The Young Men, set in Dublin over one hedonistic summer, Phil Sheerin's psychological thriller The Winter Lake, written by David Turpin, and Dave Minogue's Poster Boys, a comedy about a dysfunctional adult who agrees to mind his 10-year-old nephew for a week.
Henry Glassie: Field Work, Pat Collins' follow-up to his widely praised Song Of Granite, won the prize for best Irish documentary. The film follows the renowned US folklorist as he embarks on cultural finds around the world.
The Fleadh is an Oscar-qualifying festival in three short film categories. The Tiernan McBride award for best fiction short went to The Invisible Boy by James Fitzgerald. The James Horgan award for best animated short went to TOT, directed by Fiona McLaughlin, Tom Getty & Aimée Kirkham Priester.
Best short documentary was won by How to Fall In Love In A Pandemic by Michael-David McKernan.
Filmmaker Edwina Casey was the recipient of the Bingham Ray new talent award for her work on Algorithm and Here Are The Young Men.
The Fleadh closed with Tom Sullivan's Irish-language drama Arracht, set during The Great Hunger.
Galway and its film market were online for the first time in the event's 32-year history. "The hashtag #FilmFleadh reached five million people alone, which is tremendous," said actor and board member Kate O'Toole at the closing-night awards ceremony. "The goal always was to maintain our audience and maintain the strong sense of community the Fleadh is known for. We felt the support of that community throughout."
"What a journey we have all been on," said the Fleadh's co-founder and managing director, Miriam Allen. "Thank you to the filmmakers and audiences who joined us. It's been epic."