President Bill Bromiley announces two key promotions.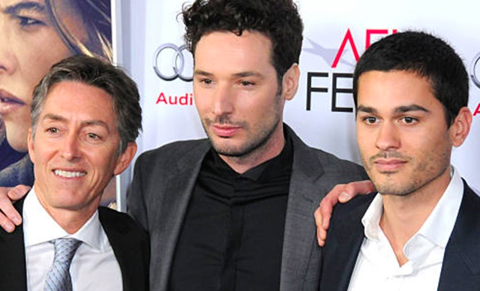 Jonathan Saba and Ness Saban have been promoted at Saban Films.
Saba (pictured at centre) is named senior vice-president of distribution, sales and marketing, while Saban (pictured at right) becomes vice-president of business development.
Saba previously served as vice-president of sales, marketing and distribution since the company's launch in May 2014.
He has supervised release strategy and marketing campaigns for the entire slate, including Rob Zombie's 31. Prior to Saban Films, Saba held executive positions in acquisitions, distribution and marketing at Anchor Bay Films, Image Entertainment, Criterion Collection, and Rilean Pictures.
Saban began his career at Los Angeles-based Saban Films, where he has served as director of business development, spearheading the acquisition of close to 50 films in less than three years including Tommy Lee Jones' The Homesman, and the upcoming 24 Hours To Live with Ethan Hawke and Small Town Crime with John Hawkes.
"Both Jonathan and Ness have been instrumental to the establishment and growth of Saban Films, bolstering our slate with market savvy strategies and inspiring leadership," Saban Films president Bill Bromiley (pictured at left), to whom the pair will continue to report, said.

"In today's rapidly changing media landscape, both continue to rise with their extraordinary instincts, tenacity and expertise. We're proud to recognise their ongoing success at Saban Films with these well-deserved promotions."