Myriad Pictures handles international sales on Penelope Cruz drama.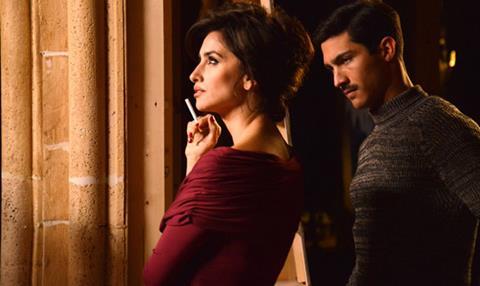 Samuel Goldwyn Films has acquired US rights to Fernando Trueba's The Queen Of Spain starring Penelope Cruz.
The story centres as film star Macarena Granada who flees Hollywood in the 1950s and returns to her roots in Spain where she signs on to star in an epic film as Queen Isabella of Spain.
The Queen Of Spain premiered at the Berlinale as a special gala screening and also stars Chino Darín, Cary Elwes, Mandy Patinkin, Clive Revill and Antonio Resines. Universal distributed theatrically in Spain.
Cristina Huete and Anne Deluz produced, while A3 Media, Mikel LeJarza, Mercedes Gamero, Rosa Perez, and Kirk D'Amico served as executive producers.
The film follows up on Trueba's 1998 drama The Girl Of Your Dreams starring Cruz as a younger Granada.
Samuel Goldwyn Films president Peter Goldwyn brokered the deal with Kirk D'Amico, whose Myriad Pictures handles international sales.
Samuel Goldwyn plans a nationwide VOD launch on August 29.
"We are delighted that our friends at Goldwyn will be distributing this comedy with a terrific cast led by a real-life movie star, Penelope Cruz, from the award-winning director Fernando Trueba," D'Amico said.
"This movie captures the era in the middle of 50's where we see the encounter of Spanish Cinema (under Franco) with American Films (at MacCarthy times)," Trueba said. "It's a comedy that is a tribute to classical comedy, it's my love letter to movies and its people."
Goldwyn added: "It is an honor to be releasing Academy Award winner Fernando Trueba's love letter to the movies and its people. Oscar winner Penelope Cruz brings grace and great comedic timing to this entertaining film."