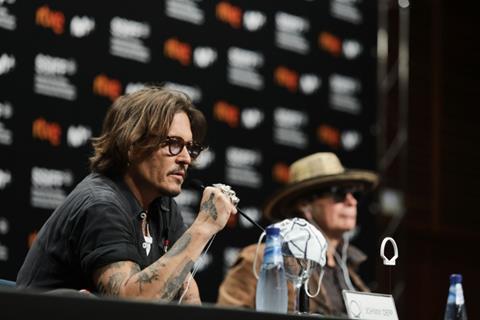 [Updated with festival director statement]: Johnny Depp will receive the Donostia Award at 69th San Sebastian International Film Festival (September 17-25).
The award, the festival's highest honour, will be presented to him on September 22 in the Kursaal Auditorium.
It will be Depp's third visit to the festival following his appearance in 2020 for Crock Of Gold: A Few Rounds With Shane MacGowan, which he produced, and a brief appearance in 1998 with Terry Gilliam.
The American actor is a three-time Oscar nominee, who made his film debut in A Nightmare On Elm Street, before starring in such lucrative franchises as Pirates Of The Caribbean and Fantastic Beasts. Depp has been removed from the latter following his loss of a libel case over a 2018 newspaper article which called him a "wife beater".
In response to Screen's query about the decision to award the festival's highest accolade to Depp in light of his failed defamation case against News Group Newspapers, in which the majority of allegations against the actor were found by England's High Court to be "substantially true", festival director Jose Luis Rebordinos issued the following statement to Screen:
"The Donostia Award to Johnny Depp is our recognition of a great actor, a man of cinema with a great career, who visited us last year as producer of the film Crock Of Gold: A Few Rounds With Shane MacGowan, by Julien Temple, which won the Special Jury Prize."
Previous recipients of the Donostia Award include Viggo Mortensen, Penélope Cruz and Judi Dench.