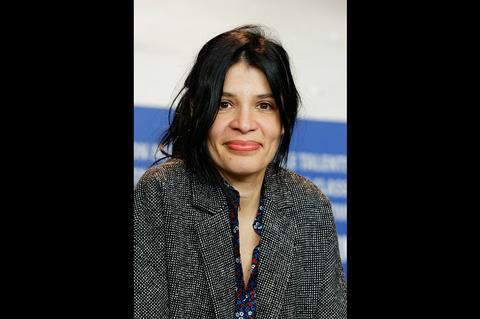 Sarajevo Film Festival's industry arm CineLink has crowned the winners for its 25th edition, in a ceremony at the city's National Theatre on Thursday (August 22).
Winners included North Macedonian project The Happiest Man In The World, or Lessons In Love from director Teona Strugar Mitevska and her family-run company Sisters and Brother Mitevski, which took the €20,000 Eurimages co-production development award.
See below for the full list of winners.
Mitevska recently directed Berlinale 2019 competition title God Exists, Her Name Is Petrunija, and was on the Competition jury at this year's Sarajevo Film Festival.
A special mention went to Ivan Marinović's Montenegrin-Serbian project Forever Hold Your Peace.
The Film Center Montenegro Award, with a €10,000 prize, went to Yorgos Zois' Third Kind; while the €6,000 Artekino International Prize went to Sofia Georgovassili's Mignon.
From the work-in-progress section, winners included Amin Behroozzadeh's documentary Fish Eye, taking the €25,000 TRT award; while from the Docu Rough Cut Boutique section, Petya Nackova's Bulgarian title Legacy received both the €20,000 (in kind) Digital Cube award and the €2,000 HBO Europe prize.
Sarajevo CineLink 2019 winners
CineLink Co-production Market Awards
Eurimages Co-production Development Award (€20,000) – The Happiest Man In The World, or Lessons In Love (N. Mac)
Dir: Teona Strugar Mitevska
Special Mention – Forever Hold Your Peace (Montenegro-Ser)
Dir: Ivan Marinović
Film Center Montenegro Award (€10,000) – Third Kind (Gr)
Dir: Yorgos Zois
Artekino International Prize (€6,000) – Mignon (Gr-Rom)
Dir: Sofia Georgovassili
Eave+ Scholarship – Judit Stalter
Work-In Progress Awards
TRT Award (€25,000) – Fish Eye (Iran)
Dir: Amin Behroozzadeh
CineLink Iridium Award (€20,000 post-production services in kind) – Neve Shaanan (Isr)
Dir: Idan Haguel
Post Republic Award (€50,000 post-production services in kind) – Things Worth Weeping For (Hun)
Dir: Cristina Grosan
Docu Rough Cut Boutique Awards
HBO Europe Award – Legacy (Bul)
Digital Cube Award (€20,000 post-production services in kind) – Legacy (Bul)
Idfa Award – Holy Father (Rom)
Cat&Docs Award (€2,000) – The Divas (Hun)
Dok Leipzig preview selection – It's Her Story (Hun)
Film Center Serbia CineLink Drama Award (€10,000) – Sabre (Ser)
Creators-directors: Goran Stanković, Vladimir Tagić