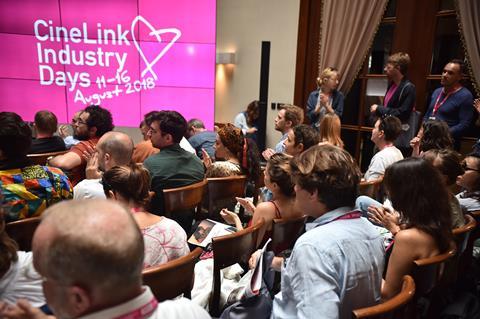 Sarajevo Film Festival's industry event CineLink has programmed 11 films to be presented to professionals in its work-in-progress strand.
This year's feature selection will include nine fiction titles and two documentaries from Southeast Europe and the MENA region.
These will be screened for a group of 60 industry professionals including funders, sales agents, distributors, broadcasters and festival programmers, in the aim to aid the projects' completion and distribution.
They will also compete for three prizes: the Post Republic Award (€50,000, in kind), the CineLink Iridium Award (€20,000, in kind) and the Turkish National Radio Television Award (€25,000, cash).
To select the winners is a jury made up of Frederic Boyer (Tribeca Film Festival), Bernd Buder (Connecting Cottbus), Petra Gobel (The Post Republic), Zülfikar Kürüm (Turkish National Radio Television) and Agathe Valentin (Totem Films).
Two projects presented at the last edition of Work in Progress premiered at international festivals this year: Burak Çevik's Belonging appeared in the Berlinale line-up and Cat in the Wall by Mina Mileva, Vesela Kazakova was picked up by Locarno, and plays in Competition at Sarajevo this year.
This year's Sarajevo Film Festival runs from August 16 to 23, opening with Ines Tanović's The Son in Competition.
Sarajevo 2019 work-in-progress projects
The Cage (Tur) (fiction)
Dir: Cemil Ağacıkoğlu
Fish Eye (Iran) (documentary)
Dir: Amin Behroozzadeh
I Am Not Angry Anymore (Bul-Ger) (fiction)
Dir: Pavel G. Vesnakov
In The Strange Pursuit Of Laura Durand (Gr) (fiction)
Dir: Dimitris Bavellas
The Island Within (Az-Fr) (fiction)
Dir: Ru Hasanov
My Father's Name Is Abdul (Iraq-Qat-Bel-Fr-Egy-Ger) (documentary)
Dir: Leila Al Bayaty
Neve Shaanan (Isr) (fiction)
Dir: Idan Haguel
Otto The Barbarian (Rom-Bul) (fiction)
Dir: Ruxandra Ghițescu
A PACK OF SHEEP (Gr-Ser-Alb) (fiction)
Dir: Dimitris Kanellopoulos
Things Worth Weeping For (Hun) (fiction)
Dir: Cristina Groșan
Waterfall CEO (Bul-Rom) (fiction)
Dir: Svetoslav Draganov