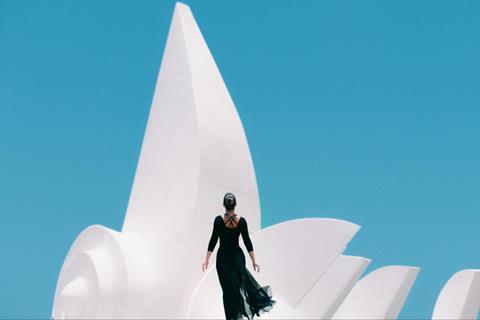 The Red Sea International Film Festival, which is due to take place for the first time in the Saudi port city of Jeddah from March 12-21, 2020, has unveiled the 12 projects that will participate in its inaugural Red Sea Lodge feature film development lab.
The selection comprises six Saudi projects as well as six productions from Jordan, Egypt, Palestine, Iraq, and Lebanon, by both emerging and established filmmakers.
They include new films by Lebanese director Hadi Ghandour, Palestinian producer and filmmaker Amira Diab and Jordanian director Amjad Al-Rasheed
Ghandour will attend with drama The Basement Notes about three brothers who form an underground band in defiance of conservative militants who capture their city.
It is his second feature film after the 2016 comedy-drama The Traveller. It is produced by respected Tunisian producer Habib Attia with emerging compatriot producer Molka Mheni.
Diab brings Scheherazade Goes Silent about a woman dealing with a life-changing tragedy as she prepares to dance in a performance based on 1001 Nights.
It is a feature debut for Diab, who took producer credits on Hany Abu Assad's The Idol and The Mountain Between Us.
She recently made her directorial debut with the short Selfie Zein, about a young woman from Bethlehem attempting to travel to the Al-Aqsa mosque in Jerusalem, which world premiered at the El Gouna Film Festival.
Amjad Al-Rasheed, who was a Screen Arab Star of Tomorrow in 2016, will attend with his long-gestated project Inchalla It's A Boy.
It follows a woman who finds herself on the wrong side of Jordan's sexist inheritance laws when her husband passes away suddenly.
All the projects will compete for two US$500,000 production prizes, which come with an invitation to world premiere at the second edition of the Red Sea International Film Festival in 2021.
The Red Sea Festival said it had received a total of 120 submissions from 16 countries for the lodge's inaugural edition.
The lab, which is being organised in collaboration with TorinoFilmLab, will take place over three workshops in Jeddah's historic district and cover every aspect of production from development through to sales and distribution.
The selection committee comprised members of the Red Sea team including festival director Mahmoud Sabbagh and Antoine Khalife, director of its Arab programme, as well as Savina Neirotti, executive director of the TorinoFilmLab.
They were supported by a team of readers, including Saudi scriptwriter and film critic Fahad Alestaa and leading media figure Layaly Badr of the Arab Radio & TV Network.
Full list of projects
(loglines provided by the Red Sea International Film Festival)
Saudi Projects
Practicing Polygamy
Dir/scr: Malak Qouta
Prod: Bentley Brown
An animated feature-length documentary exploring the customs, traditions, and daily reality of polygamy in Saudi Arabia.
Dr. Adly's Smile
Dir: Ali Alsumayin
Scr: Fatima Albanawi
Prod: Sarah Elnawasrah
Who saves who when there is family turmoil? When Dr. Adly's mental health declines after getting divorced, his daughter Basma puts her life on hold to rescue him from his own delusions.
Four Acts of Disruption
Dir/scr: Hussam Alhulwah
Prod: Mohammed Alhamoud
As Arab Bedouins and foreign prospectors meet, the future of the newly founded Kingdom of Saudi Arabia will be shaped. This conflict of vision and tradition is told through the stories of Saudi Ayad and American geologist Roy.
When the Star is Falling
Dir/scr: Mohammed Salman Alsaffar
Prod: Mousa Althonian
One woman, one kingdom, many interconnected narratives. Short, linked vignettes jump through time and place to tell the story of a culture and a life shaped by diverse landscapes – from the traditions of the desert to the modern tumult of the city.
A Trip to Disney
Dir/scr: Maha Alsaati
Prod: Hussain Slam
The journey of a jilted lover. Abandoned in Saudi, a woman travels to Florida, anxious to encounter the man who has left her behind. Finding herself in the Disney empire, she discovers she is not his princess.
Sharshaf
Dir: Hend Alfahhad
Scr: Manal Alawebeel
Prod: Talal Alharbi
Tracking the shockwaves of the 1979 Grand Mosque Seizure, a catastrophe that curtailed social and cultural freedom in Saudi Arabia, through the life of a typical middle-class woman, Haila and her love of film. This is the story of a nation and a generation.
Arab Projects
Inchalla it's a Boy (Jordan)
Dir/scr: Amjad Al-Rasheed
Prod: Aseel Abu Ayyash

Grieving the sudden death of her husband, Nawal must confront the realities of inheritance laws which rule that, without a son, she stands to lose the home she bought for herself and her daughter.
A Journey of Bullets and Bread (Egypt)
Dir/scr: Mohammad Hammad
Prod: Mohammed Hefzy and Kholoud Saad
When a chance encounter between wild Awad and the shy, intellectual Youssef forges an unlikely friendship, their lives become tangled in acts of fate and betrayal.
Scheherazade Goes Silent (Palestine)

Dir/scr: Amira Diab
Prod: Raya Aburub
Tragedy forces Shams to confront choices amid strict expectations. As she prepares to star in a dance piece based on 1001 Nights, she must live with decisions that put her at odds with her society.
The Basement Notes (Lebanon)

Dir/scr: Hadi Ghandour
Prod: Habib Attia and Molka Mheni
In defiance of militant forces who have captured their city, three brothers form a band. As their music spreads underground, a desire for recognition puts their lives at risk.
I Am Arzé (Lebanon)

Dir: Mira Shaib

Scr: Louay Khraish
Prod: Zeina Badran
Desperate for money to buy the scooter that will allow her to work, single mother Arzé steals a gold bracelet from her sister Layla. Now she's got wheels, she's getting along better with her son Kinan – until he discovers the scooter is stolen.
The Arabic Interpreter (Iraq)
Dir/scr: Ali Kareem

Prod: Khalid Abu Sharif
Hassan is a frustrated actor; unable to find work in the theatre, he takes a job as an Arabic-German Interpreter so he can stay in Berlin. Listening to the refugees' harrowing stories, Hassan relives the wars he experienced in Iraq.