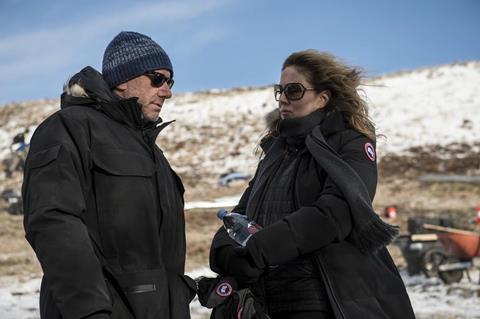 Producer and Scanbox chairman and CEO Joni Sighvatsson has paid tribute to his Propaganda Films co-founder and Anonymous Content head Steve Golin, who died on Sunday.
Sighvatsson and Golin launched their company in 1986 as a talent management, advertising and video production boutique, before Golin moved on 14 years later to set up Anonymous Content.
"I met Steve Golin at the American Film Institute where we were both studying," Sighvatsson told Screen. "We became fast friends and shortly afterwards we formed Propaganda Films with four amazingly talented directors.
"He was smart, funny and gregarious. Moreover he really was my guide into American life and traditions. His amazing resilience always was calming and reassuring. As a partner one couldn't ask for more."
Figures from Hollywood paid tribute to Golin (pictured at left with Mary Parent on the shoot of The Revenant) on Twitter throughout the day on Monday (22). His producing credits included best picture Oscar winner Spotlight, The Revenant, Mr. Robot, and True Detective.
Mr. Robot creator Sam Esmail: "My heart is broken. Rest In Peace, Steve Golin."
Director Edgar Wright: "So sad to hear Steve Golin has passed away. A champion of diverting, cutting edge cinema. I fondly remember us doing a Q&A at the New Beverly for 'Wild At Heart' sitting with him at the back as it rocked the place. Then Laura Dern showed up bringing Lynch with her! A magic night."
Producer Cassian Elwes: "Both admired him and liked him very much. A positive force always. Hope he's in heaven making more movies."
The Black List founder Franklin Leonard: "Straight up, Steve Golin is one of the people whose careers I aspired toward. We were at a dinner together less than three weeks ago. What a colossal loss to everyone in the film and television industry and who watches film or television. Damn."
Documentary director Brett Morgen: "Steve Golin gave more to this world than he took, he inspired and allowed so many of us to reach our full potential. He was a great man who left us way too soon. He will be deeply missed but his spirit will continue to grow in our deeds and work."
Documentary director and actor (Bill And Ted films) Alex Winter: "Steve was the first to give me a shot as a director when I signed with his company Propaganda back in the early 90's. I saw him frequently in the intervening years and he was always supportive and always working hard on great material. He will be missed."
The Academy: "Steve Golin has championed and elevated so many voices in our industry. Today, we remember the Oscar-winning producer behind "Eternal Sunshine of the Spotless Mind," "The Revenant" and "Spotlight." His legacy lives on."