War Machine, First They Killed My Father, Bright among roster of titles scheduled to launch this year.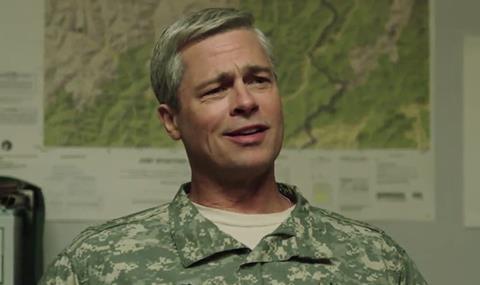 One of the biggest open secrets in Hollywood was confirmed on Tuesday as it emerged Scott Stuber, the former vice-chairman of worldwide production at Universal, will head Netflix's original film initiative.
The appointment is a coup for deep-pocketed streaming service as it attempts to draw big names and big productions into the fold beyond those that are already lined up for release this year (see below).
Stuber had been courted for the top job at Paramount and will now lead the development, production and acquisition of Netflix's growing slate of original films for a global subscriber base the company said currently numbered more than 93m.
The new hire most recently founded and ran Bluegrass Films, the Universal-based production company behind such hits as Ted, and Central Intelligence. Bluegrass will transition to partner Dylan Clark and continue its TV partnership with Jamie Tarses.
Stuber inherits and will oversee a slate of Netflix original films set to open this year that includes: the satire War Machine starring Brad Pitt (pictured), a possible first Cannes selection for the streaming service that is scheduled to launch on May 26; and Angelina Jolie's Cambodia-set genocide drama First They Killed My Father.
The roster includes Bong Joon Ho's adventure Okja that reunites the South Korean master with his Snowpiercer star Tilda Swinton and includes Jake Gyllenhaal, Paul Dano and Lily Collins; and David Ayer's supernatural procedural Bright with his Suicide Squad star Will Smith alongside Joel Edgerton, Noomi Rapace, Lucy Fry and Edgar Ramirez.
Duncan Jones's mystery thriller Mute stars Alexander Skarsgaard, Paul Rudd, Justin Theroux and newcomer Seyneb Saleh; thriller Death Note hails from genre director Adam Wingard; romance Our Souls At Night from Ritesh Batra stars Robert Redford, Jane Fonda, Bruce Dern, Judy Greer, Matthias Schoenaerts and newcomer Ian Armitage; and Sandy Wexler, the latest feature from Netflix's four-film deal with Adam Sandler, who stars alongside Jennifer Hudson and Judd Apatow.
At Universal Stuber played an integral role in the Fast And The Furious franchise, A Beautiful Mind, Seabiscuit, Cinderella Man, Jarhead, 8 Mile, and the Jason Bourne and the Meet The Parents franchises,among others.
"Scott is well known and respected in the film industry," Netflix Chief Content Officer Ted Sarandos said. "His innovative work and strong talent relationships should help accelerate the Netflix original film initiative as we enter into a new phase of big global productions with some of the greatest directors, actors and writers in the film business.

"This is an unprecedented time of change and opportunity and we look forward to having Scott lead the way as we help evolve the way films are made, distributed and celebrated around the world."
"Netflix is at the forefront in changing the way entertainment is enjoyed throughout the world, bringing a greater variety of stories to more people than ever before," Stuber said. "It's an incredible opportunity to work with a company with such reach and that stands for such diverse quality content for global audiences. I look forward to expanding the foundation and brand Netflix has built with visionary and commercial storytellers."