"Smaller, independent units" are the key to restarting film and TV production worldwide according to the panel of locations and production experts taking part in the latest episode of Screen Talks, which was sponsored by the St Petersburg Clearwater Film Commission.
Addressing the worldwide spread of the coronavirus, UK line producer and unit production manager Sam Breckman said, "There will be a second spike. And if we don't keep ourselves to ourselves – which is unlikely to happen, because after eight weeks we're going stir crazy – it's smaller, independent little units that are making films."
"There aren't going to be as many people employed as previously," continued Breckman, whose credits include Tomb Raider, Jason Bourne and The Monuments Men. "Maybe our industry has got too bloated. There's a point where we've just got to say, 'Sorry, you can't have an assistant of an assistant of an assistant anymore, you've got one.'"
"A big question is always cost – how are we going to afford to pay for these extra cautions and procedures?" said Tony Armer, film commissioner at St Petersburg Clearwater in the US state of Florida. "Unfortunately some of that is going to be in reducing crews."
"The calendar comes so much into play here," added Mike Moffett, managing director of the Production Service Network (PSN). "I've had discussions where it's a big studio project – they're not even looking at doing anything until next year. Other projects where it's a smaller scale are looking at maybe being able to do something in the fall.
"The biggest projects are getting pushed to next year, almost without discussion. At the moment the industry can't get its head around trying to make that happen with all the requisites."
The variety of projects across the industry poses a problem to one-size-fits-all guidelines, noted Mike Fantasia, location manager and production supervisor on features including Top Gun: Maverick as well as president of the Location Managers Guild International.
"There's still a lot of uncertainty," said Fantasia. "I've spoken with various heads of production and safety consultants at the studios and they're really struggling. The same protocol won't work for everybody.
"We're hoping within the next week or 10 days to have a protocol worked out that's been agreed to by industry – that'll be a baseline. Productions will then use that baseline to work from and adjust how they operate accordingly."
Talent challenges
With many countries including the US and UK in some form of lockdown, travelling is harder than ever before for actors, directors and producers.
"Americans aren't going to be getting on a plane any time soon to come over to the UK, irrespective of the [tax] rebate," said Breckman. "If they come over, there's a two-week quarantine period."
Talent and those representing them will also be concerned about contracting the virus.
"You have to protect your talent," Breckman continued. "They're not getting on a plane any time soon. What you've got in Spain will stay in Spain, what you've got in Florida will stay in Florida."
This could provide opportunities, he added. "Maybe that will find new talent, people that can take risks. We'll see people coming into this industry who can operate with a small unit, and make it really very exciting."
Addressing the practicalities
Regarding the practicalities of shooting under the threat of coronavirus, Suresh Sivagnanam, CEO of private healthcare provider vdoc, said recent history provides a potentially useful guide.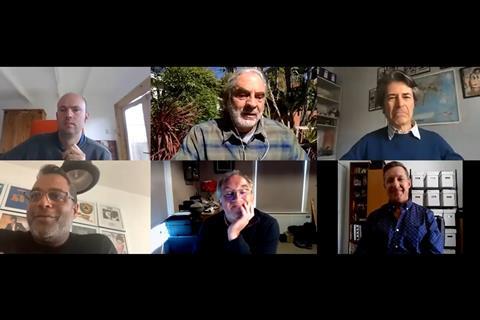 "The porn industry from a number of years ago had this pass system as a control for HIV. It's no different for what we're talking about here today," he said. "It's no different from us carrying an immunity card these days. What they had was the actors in that industry had a pass card. It was HIV testing on a continual basis.
"This is about protocol. It's about pioneering as well," he continued. "It just takes one group to start it. Because we're in an imperfect world, there's no right or wrong answer. It's about effectively de-risking everything."
From his medical perspective, Sivagnanam said, "The key thing now in terms of a clinical pathway is the vaccination."
Catering on set will have to change too according to the panel.
"You're not going to see buffet lines anymore; 45 people are not going to be touching the salad fork," said Fantasia. "It'll be, 'I'd like some of this, this, this and this', somebody will serve it to you.
"I think craft service is going to essentially go away," he added. "Craft service is going to be packaged power bars, packaged nuts and raisins, pre-packaged things."
The pandemic may roll back ecological advances. "We had a real 'green initiative' the last few years here in the States – a lot of that's going to go away," said Fantasia. "We're not going to use a water bottle and refill it – we're going to use a single-serve and throw it away, single-serve cutlery."
Film Florida, the state-wide organisation which covers St Petersburg Clearwater, brought out its recommendations for safe and clean set policies and procedures last week.
"We just approved our first permit today to shoot this week - a small digital production with a crew of five people," said Armer. "Being a tourism destination with 35 miles of beaches, our exteriors are a lot of where people want to film. I'm fielding a lot of calls from LA and from other parts of the country - 'when can we come, what can we film, what are the restrictions, how can we do these things?'"
Moffett mentioned that "more than 30" of PSN's partners are already filming live-action around the world. "Commercials have been turning this round – they're already shooting, using the technologies at hand to connect brand, agency stakeholders, even a director," he said, while acknowledging that asking a feature film director to work remotely might be "pushing it".
Rebates and incentives may have less of a role to play going forwards, despite territories such as Spain increasing them to attract business.
The US state of Georgia, which hosts a large number of film and TV productions and has tax credits available up to 30%, is "opening up" while "they still have [coronavirus] cases increasing" said Fantasia.
"On a lot of the bigger projects in Georgia you have 30-40% crew from New York or LA," he continued. "I just don't see people heading on a bus there – they're going to fund a way to shoot it in LA or Wyoming."
The talk was moderated by Chris Evans, news and locations editor at Screen's sister publication KFTV. The Screen Talks series will continue next week, with the next talk to be announced soon.